Scaramucci Calls Priebus 'Rancid Penis' and a 'F***ing Sith Lord' in Insane New Interview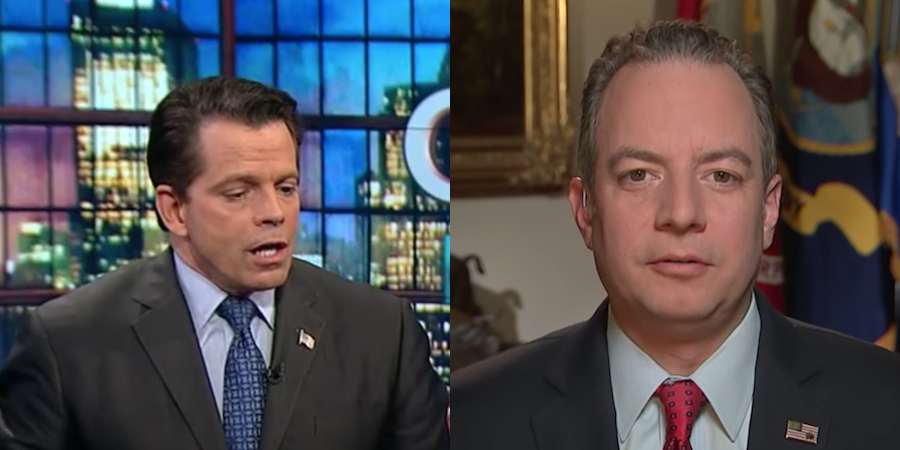 Anthony Scaramucci is back, after having never really left. The former, sort of, White House communications director conducted a series of bombshell interviews with Vanity Fair that touched on his time at the White House, which he referred to as "berserkazoid craziness."
He also took many pot shots at his one-time rival, former Chief of Staff Reince Priebus, including sharing that his pet nickname for the politician is, and we quote, "rancid penis."
Scaramucci alleged that Priebus tried to talk him out of working at the White House, saying he was "jealous" that he got close to President Donald Trump.
"He did say this because he's a Washingtonian. That's what they do to you, they say, 'golly gee' to your face and they act like Richie Cunningham to your face. They're Richie Cunningham and they're Opie from The Andy Griffith Show, but they're the fucking Sith Lord behind your back," he said, Sith Lords being the villains in the Star Wars franchise. "They're hitting you with a lightsaber behind your back."
Scaramucci also alleged, in something of a paranoid rant, that Priebus bribed Steve Bannon into forcing him out of the communications director position.
"He goes to Bannon and he says, 'I'm gonna get you on the National Security Council if that's where you want to go, but you've got to join forces with me and take out Scaramucci,'" he said, with Vanity Fair pointing out that a source close to Bannon said that allegation was "laughable."
Scaramucci wasn't done with Bannon, calling him, and we quote, "a cock of the swamp."
"Bannon turns on me, because Bannon is ultimately railing against the swamp, but he's actually a cock of the swamp. He's the creature from the Black Lagoon, Bannon," he said. "So for all of his railing on the swamp, he is literally the pig in George Orwell's Animal Farm that stands on his two legs the minute he gets power. He is the creature from the Black Lagoon."
Was he finished? Heck no! Scaramucci went on to accuse Priebus and Bannon of paying for opposition research in an attempt to bring him down.
"Now they're trying to kill me while I'm in the job. They're hiring oppo people: 'Have I sexually harassed any women in my office? Please, dear God, hopefully he has. Did he do anything nefarious on Wall Street?'" Mooch exclaimed.
As for Trump, he continues to express his admiration for the president, calling him a "winner."
[image via screenshot]
—
Follow Lawrence Bonk (@sidescrollers) on Twitter
Have a tip we should know? tips@mediaite.com