Trump Campaign Ads Called Out for Using Paid Actors Reading Scripts to Endorse the President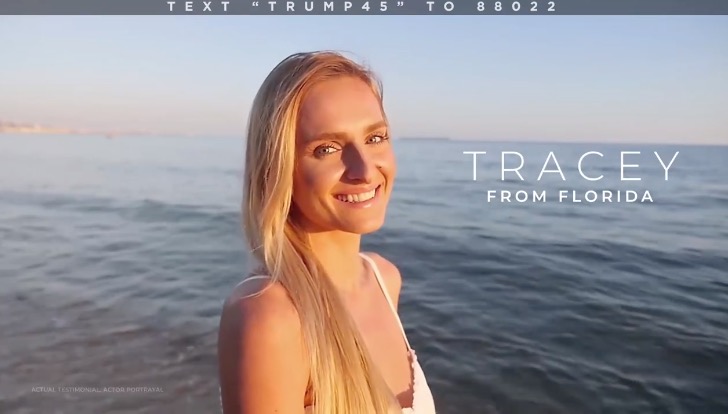 A series of Facebook ads depicting people endorsing President Donald Trump are not actual American citizens pledging support, but rather paid spokesmodels, according to the Associated Press. Stock footage used for these campaign endorsements was first reported by Judd Legum for his Popular Information newsletter.
AP reports:
A series of Facebook video ads for President Donald Trump's re-election campaign shows what appears to be a young woman strolling on a beach in Florida, a Hispanic man on a city street in Texas and a bearded hipster in a coffee shop in Washington, D.C., all making glowing, voice-over endorsements of the president.

"I could not ask for a better president," intones the voice during slow-motion footage of the smiling blonde called "Tracey from Florida." A man labeled on another video as "TJ from Texas" stares into the camera as a voice says, "Although I am a lifelong Democrat, I sincerely believe that a nation must secure its borders."

There's just one problem: The people in the videos that ran in the past few months are all actually models in stock video footage produced far from the U.S. in France, Brazil and Turkey, and available to anyone online for a fee.
It is not unusual for political advertisements to use actors, but presenting models making specific endorsements about a candidate of any sort, opens up significant room for criticism. These are not actual citizens expressing their genuine opinion, rather actors reading a script crafted by an agency hired by the campaign. It is the very nature of propaganda or even "fake news."
The paid ads show up in Facebook user feeds with a message from the Trump campaign that reads:
Despite the constant stream of lies from the FAKE NEWS media, my popularity is higher than ever.

A new poll just released found that 93% of Republicans approve of my administration.

We all know that the media will never tell the truth about my incredible record, but I'm more interested in what YOU think.

Please cast your vote in the Official Trump Approval Poll before 11:59 PM TONIGHT.
The fact that these ads are running on Facebook, which was the social media platform used so aggressively by Russing intelligence operations to undermine the 2016 general election, only raises eyebrows even higher.
These videos are not shareable as no embed code is available, but users can go to the Facebook ad library and view them there.
Have a tip we should know? tips@mediaite.com