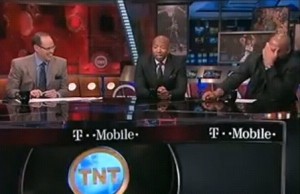 As far as laid-off workers go, Lawrence Frank has it pretty good. He was fired as head coach of the NBA's New Jersey Nets after a nightmarish 0-16 start this past season, but the team was widely regarded as a wreck, and Frank didn't take much personal blame for the mess. In fact, as this piece notes, some even wondered if the firing took place at least in part, as author Dave D'Alessandro put it, "to spare [Frank] the aggravation" of continuing. It's widely believed he'll get another coaching job before very long, and is well-regarded as a plucky underdog who made it big against the odds.
None of this, however, means he is suited for live television.
Frank became the latest victim of unfamiliarity with when one is and isn't on-air this morning, when he followed up his appearance on ESPN's First Take with some very colorful opinions on Cleveland Cavaliers superstar LeBron James, and his doomed last Nets team. Unbeknownst to Frank, it all made the broadcast. Watch below:
Frank's gaffe followed a much less shocking on-air moment by TNT basketball analyst/Hall of Famer Charles Barkley. Embarrassed by a fan-submitted question about whether he preferred brunettes or blondes, Barkley called his co-hosts Ernie Johnson and Kenny Smith "assholes." Barkley has been in broadcasting for a decade now, so he knows the ins and outs of television production much more thoroughly than Frank. Hence, as the previously-linked post from sports blog You Been Blinded acknowledges, unlike Frank, Barkley knew he was on the air and simply didn't care enough to let it get in the way of a good zinger. Barkley is known for his outspokenness, so his use of a mild expletive is hardly news at this point. The real surprise here is probably that the "blondes vs. brunettes" question embarrassed him so much in the first place (though Newsbusters posits that this incident might have been why Barkley was so out of sorts at the question). See it for yourself:
Overall, Frank's obliviousness gets the clear comedy edge over Barkley. Frank used stronger curses and immediately followed with a sheepish off-screen apology (more surefire comic gold), which begot nervous host laughter (another comedy guarantee), as well as what almost appeared to be synchronized "Oh well" shrugging by the hosts, realizing there was no way to cover up Frank's error. Let's hope for Frank's sake he gets another coaching job soon – from here on, the TV appearances might be few and far between.
Have a tip we should know? tips@mediaite.com