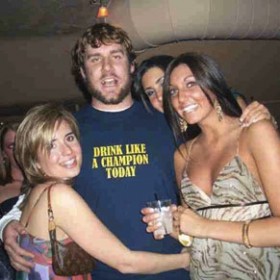 It's official: Pittsburgh Steelers quarterback Ben Roethlisberger has been suspended by NFL commissioner Roger Goodell for six games for violating the league's personal conduct policy.
The violation stems from accusations that Roethlisberger sexually assaulted a 20-year-old college student in a Georgia nightclub bathroom.
Although the district attorney dropped the case because of a lack of physical evidence, a police report was released on April 15th that painted an ugly picture of Roethlisberger. Since then, it's been open season on Big Ben.
Deadspin has led the charge, posting a series of embarrassing stories about Roethlisberger, usually relayed to them by women who allegedly  had run-ins with him or a friend of a friend who went to college with him.
Although the suspension is officially for six games, there's a catch:
The Pittsburgh Steelers quarterback also was ordered to undergo a comprehensive behavioral evaluation. Commissioner Roger Goodell will evaluate Roethlisberger's progress before the season and might consider reducing the suspension to four games. However, a failure to comply with the NFL's ruling might lead to a longer suspension.
Goodell, the NFL's hardline commissioner, was under pressure to come down hard on Roethlisberger, mostly because of the accusations leveled at the quarterback.
But there were also racial undertones, as the league considered what to do with a white star in a league that is 65% black. Some sportswriters wondered if Roethlisberger would be given a lighter suspension because he's white.
By suspending Roethlisberger for at least a quarter and up to half of the season, the answer to that is unequivocally no.
Have a tip we should know? tips@mediaite.com