Ben Stein To O'Reilly: Obama Not A Smart Man, Not In 'Same League Of Presidential Genius' As Nixon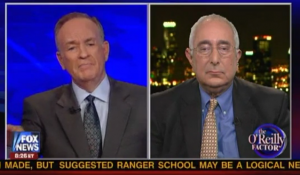 Bill O'Reilly spoke to economist Ben Stein about a potential Mitt Romney presidency, as well as what Stein thinks of President Barack Obama. Going beyond wanting Romney to win, Stein said Obama isn't particularly smart. Smarter than "the average bear," but not of the likes of President Richard Nixon.
Stein began by speaking about he riots in Greece, warning those who think it can't happen in America. Young people without jobs who are angry, and have nothing better to do, may riot, he said. It's "fun for them. They can be provoked into doing it at a drop of a hat."
O'Reilly then pivoted to the question of a Romney White House, saying it's inevitable that he would make huge cuts in government spending. Stein responded saying he would like Romney to win, but doesn't think he will because Obama will "swamp" him in terms of fundraising. But of course there would be cuts, he said:
And the people will be whipped up by a frenzy by people at MSNBC and elsewhere, at least that's my prediction. There will be rioting in the streets and they won't even need MSNBC. They will be whipped up into a frenzy by their local friends and family. They'll go out and riot and we will see things like we saw in Greece here in America. Then I don't know what we'll do.
Finally, O'Reilly asked, "Barack Obama is a smart man, you would say that, right? He is a smart man?" Stein replied, "No, I wouldn't say that." He added, "I wouldn't say is he a smart man. […] not in the same league of presidential genius as Nixon, for example. But he is smarter than the average bear as they say."
Take a look, via Fox News:

Have a tip we should know? tips@mediaite.com