Bill O'Reilly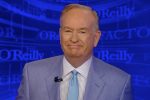 William James O'Reilly is an American journalist and former T.V. host. He hosted Inside Edition from 1989 to 1995 and later The O'Reilly Factor on FOX News until 2017. The show was the highest-rated cable news show for 16 years. He was fired from FOX in 2017 when it came to light that the network paid millions to women to settle sexual harassment lawsuits against him.
Bill O'Reilly Q&A
Where did Bill O'Reilly go to school?
Bill O'Reilly attended Marist College from 1967 to 1971 where he got a degree in history. He got his masters in broadcast journalism from Boston University. In 1995, he went to the Kennedy School of Government at Harvard University where he got his master of public administration degree in 1996.
When was Bill O'Reilly born?
Bill O'Reilly Noteworthy Stories
June 24, 2019
Bill O'Reilly gets bashed for tweets suggesting slavery was not a major component in the fabric of the United States.
October 18, 2018
Bill O'Reilly's book Killing the SS: The Hunt for the Worst War Criminals in History hits number one on The Times bestseller list, despite O'Reilly being off cable news.
January 31, 2018
Bill O'Reilly returns to cable as an analyst for Newsmax TV, but does not pull great ratings.
Latest Bill O'Reilly Stories