Bill Maher on Ebola: 'Do We Really Need to Have People Flying In-and-Out of Liberia?'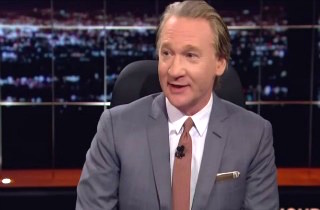 HBO Real Time host Bill Maher joins the chorus of political commentators calling for the U.S. to impose travel restrictions on flights to and from countries crawling with Ebola.
In an interview with The Daily Beast, Maher said the response to the few Ebola cases found and treated in the U.S. could be better.
"I'm not panicking, but from the start they've underestimated it, they've not been ahead of it, and they keep saying things that the next day turn out not to be true," Maher said. "First it was: 'It's not going to get here.' And then it got here. Then: 'It's not going to spread out from the one guy,' and then it spread out from that one guy."
Maher said the U.S. needs a "kick-ass-and-take-names mentality" to contain Ebola. "Where's the mandatory quarantine [for people who may be infected]?"
He continued:
Do we really need to have people flying in-and-out of Liberia to take care of the crisis, specifically? And let's not even get into what a nightmare it was inside this Dallas hospital. Just two days ago my tweet was something like, "Nigeria has contained Ebola. All we have to do—no offense, Nigeria—is be better than you." Well, I think my tweet today would be, "Sorry, Nigeria! I think I've overestimated America. We'd like to be just as good as you." Have you heard what they're doing in that hospital? They weren't even wearing protective clothing that covered their whole bodies. And then this doctor said, "Put tape on your neck." What the fuck?! It seems like a lot of people have been exposed, whereas when the one guy came back, we could have shut it down right then and there. And we didn't.
Officials at the Center for Disease Control have maintained that travel bans will not be effective in containing Ebola. They say flights into West Africa, where there is an epidemic, are need so that aid can be sent and distributed.
President Obama has ordered troops to West Africa to combat the spread of the disease.
[Photo via HBO/screen grab]
— —
>> Follow Eddie Scarry (@eScarry) on Twitter
Have a tip we should know? tips@mediaite.com