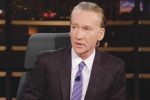 Bill Maher is a political commentator, comedian, and television host. He is known for his HBO show "Real Time with Bill Maher" and his previous late-night show "Politically Correct" on Comedy Central and later on ABC. He was born January 20, 1956, making him 64 years old.
Bill Maher Q&A
Does Bill Maher own the Mets?
Bill Maher has a minority stake in the New York Mets.
Where did Bill Maher go to college?
Bill Maher attended Cornell University from 1974 to 1978 where he studied English and history.
Bill Maher Noteworthy Stories
June 15, 2019
Bill Maher calls the GOP in the Trump era the "deadbeat dad".
March 30, 2019
Bill Maher roasts George Clooney for calling the boycott of the Sultan of Brunei's hotels, believing it is hypocritical.
Latest Bill Maher Stories