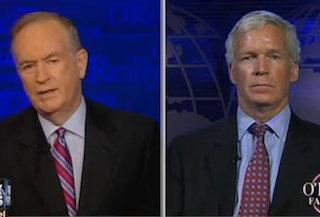 Bill O'Reilly opened his Wednesday night show by wondering if former IRS Commissioner Douglas Shulman's 157 visits to the White House constituted "a smoking gun" linking the organization's targeting of conservative groups to the Obama Administration.
"157 times!" O'Reilly said. "By comparison then Secretary of State Hillary Clinton went to the White House forty-three times. Then CIA Director Leon Panetta twenty times. So what the heck was Mr. Shulman doing at the White House with that kind of frequency?"
O'Reilly played footage of Shulman being "a wise guy" at last week's congressional hearings, answering that he had gone to the White House for an Easter Egg hunt with his kids.
"Well, Mr. Shulman, you know what you can do with your Easter Egg hunt?" O'Reilly said. "You must explain under oath what you were doing at the White House on 157 separate occasions."
Related: Kirsten Powers Battles O'Reilly: Do You Honestly Believe IRS Head Was 'Scheming' Against The Tea Party?
However, former IRS Commissioner Mark Everson, who served under Bush until 2007, listed two possible explanations for Shulman's multiple appearances—namely that the IRS was directly involved in two major legislative efforts at the time.
"The administration was considering tax reform and also healthcare, in which the service has a major role," Everson said. "So, the service needs to be part of conversations about what is going to happen if that bill becomes law. So that's totally legitimate."
"To be fair to Mr. Shulman," O'Reilly said, "there were legitimate issues that needed to be discussed because of implementation of Obamacare. But, just keep in mind the Secretary of State and Secretary of Defense-slash-CIA Chief were in there only twenty percent of the time that he was in there and no other official came even close to him."
"That's an unusual fact pattern," Everson said, after some hesitation.
"That's the understatement of the century, Mr. Everson," O'Reilly responded.
"The President of the United States should explain tomorrow what Mr. Shulman was doing at the White House so many times," O'Reilly added. "There's no way on earth this Shulman should not have to explain in detail what he did inside of the IRS. So again we call upon President Obama to clarify the situation. Make Shulman testify as soon as possible."
Watch the whole segment here:

—
>> Follow Evan McMurry (@evanmcmurry) on Twitter
Have a tip we should know? tips@mediaite.com