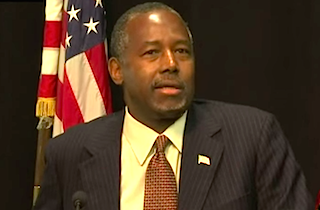 Stylistically, Donald Trump and Ben Carson have very little in common. But it seemed as though Carson was taking a page from Trump's book on Tuesday as reporters in Ohio continued to hammer him for his assertion that he would not support a Muslim-American candidate for president of the United States.
"It seems hard for people to actually hear English and understand it," a frustrated Carson said. Since making his original comments on Meet the Press, he has walked them back a bit, now saying he will embrace anyone — presumably including Muslims — "as long as they embrace our American values and our Constitution and are willing to place that above their beliefs."
The only way to fix the perception that he is anti-Muslim, Carson said, is to "fix the PC culture in our country, which only can listen to one narrative." This is the same argument Trump has made whenever he is accused of saying something offensive. In fact, when Trump first made his remarks about Mexican "rapists," Carson defended him by saying, "It's the PC police out in force."
Carson also channeled Trump when he was asked whether he believes he could earn the votes of any Muslim-Americans. "I think a lot of them would," he said, suggesting that he has heard from several Muslim-American friends and former colleagues over the past 24 hours who don't believe he's prejudiced against them.
Sound familiar? "They love me," Trump said of Hispanic-Americans earlier this summer. "And I'll tell you something: If I get the nomination, I'll win the Latino vote."
Watch video below, via Fox News:
[Photo via screengrab]
— —
>> Follow Matt Wilstein (@TheMattWilstein) on Twitter
Have a tip we should know? [email protected]