CNBC's Joe Kernen Goes On Tirade Against 'Bonafide Cult' Of Climate Change: 'Enviro-Socialists'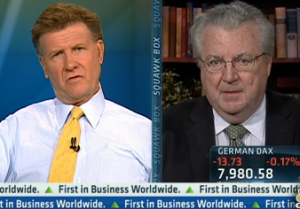 On CNBC's Squawk Box on Friday, anchor Joe Kernen went off on people who believe in climate change. He made these comments during an interview with a former president and CEO at Shell Oil, who was pushing the government to embrace natural gas. Kernen told him it won't happen anytime soon, remarking that the government is currently too obsessed with climate change to deal with that issue. He used the occasion to go after the "bonafide cult" of climate change "enviro-socialists."
John Hofmeister, the former Shell Oil head and current CEO of Citizens for Affordable Energy, first addressed how the coup in Egypt has resulted in rising oil prices, before getting around to natural gas. He warned that the U.S. needs to shift more in that direction, or else oil prices will skyrocket until "the economy sags." Hofmeister criticized "enablers from the U.S. government" who don't want to shift that fuel demand, calling it "foolishness… at the political level."
Kernen went on a sarcastic tirade about climate change and made this observation about people who believe it's happening.
"You haven't read my Twitter feed, I'll tell you that much. Boy, am I–I don't know, some problem with orcas and shark fins and–there's a lot of things happening the enviro-socialists are–man, it is a cult. It is a bonafide cult."
Kernen was referring there to the number of arguments he's gotten into on Twitter over climate change.
Watch the video below, courtesy of CNBC:
h/t Raw Story
—–
Follow Josh Feldman on Twitter: @feldmaniac
Have a tip we should know? tips@mediaite.com
Josh Feldman - Senior Editor