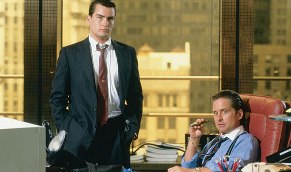 CNBC ("First in Business Worldwide") is going to become CNBC Cinema during Friday nights and holidays in June and July, airing movies instead of, you know, business news.
There's going to be a lot of Wall Street.
Other movies include The Thomas Crown Affair and The Rainmaker. The movies air Friday nights at 8pmET, as well as during the July 4 weekend. On Twitter, CNBC correspondent Jane Wells had some fun yesterday taking suggestions about other movies CNBC should air – The Matrix anyone?
While it's pretty surprising that a news network would air movies instead of news, picking Friday nights in the summer is probably the best time to do it. And truthfully, it will probably help ratings. But business networks have long been accused of airing occasional non-business coverage. CNBC's own documentaries, that are often ratings draws, have been about everything from porn to marijuana. On Fox Business Network, some have criticized the choice of Don Imus as morning show host, since his radio program focus is far from the business news world. On Bloomberg, re-airing Charlie Rose only gets some business focus.
Are all these better because they occur during hours when the American markets aren't open? Maybe. Then again, when business news junkies turn on CNBC on Friday evening in July and see Gordon Gekko, it's going to be at least a little jarring.
Here's the full schedule:
Friday, June 11th – The Last Days of Lehman Brothers (9PM/10PM/12AM/1AM)
Friday, June 18th – The Thomas Crown Affair (8PM – 10:30PM & 11:30PM – 2AM)
Friday, June 25th – The Player (8PM – 11PM & 11PM-2AM)
Friday, July 2nd – Wall Street (8PM – 11PM & 11PM-2AM)
Sunday, July 4th – Wall Street (8PM – 11PM)
Monday, July 5th – Wall Street (5PM – 8PM)
Friday, July 9th – The Rainmaker (8PM – 11PM & 11PM-2AM)
Friday, July 16th — The Last Days of Lehman Brothers (9PM/12AM)
Friday, July 23rd – Wall Street (8PM – 11PM & 11PM-2AM)
—–
» Follow Steve Krakauer on Twitter
Have a tip we should know? tips@mediaite.com