CNN Reports 'Black Panthers' Offering Bounty On Trayvon Killer George Zimmerman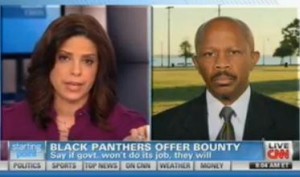 As pressure continues to mount for an arrest in the killing of Trayvon Martin, the media is beginning to turn its attention to the New Black Panthers, who distributed "Wanted: Dead Or Alive" leaflets for shooter George Zimmerman, and have offered a $10,000 bounty for his "capture."
On CNN's Starting Point Monday morning, host Soledad O'Brien asked Sanford City Manager Norton Bonaparte Jr. about the bounty, and while she correctly identified the group, a chyron that ran during the 2-minute segment read "Black Panthers Offer Bounty."
Here's the clip, from CNN's Starting Point:
That is not to pick on CNN. They're not the first to conflate the two groups, and they probably won't be the last, but it is an important distinction to make. This isn't a "tomato/tomahto" difference; The New Black Panthers are not affiliated with the original Black Panther Party in any way. In fact, leaders of the original Panthers have denounced the NBPP, even suing them for use of the name, and stating that the New Black Panthers operate on "hatred of white people." The NBPP has been designated a "hate group" by the Southern Poverty Law Center, and the Anti-Defamation League.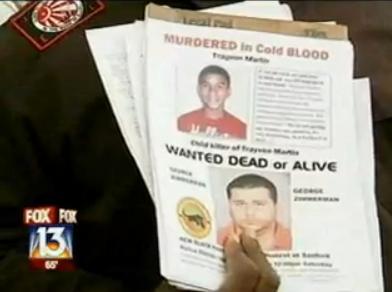 Now, whether you're fond of the original Black Panthers, whose history is complicated and marked by real violence, they did achieve broad support among black people (and many whites, as well) as a symbol of the larger Black Power movement, a breadth of support that the NBPP doesn't come close to enjoying. In denouncing the New Black Panthers, the Dr. Huey P. Newton Foundation pointed this out in searing, loaded terms.  "Failing to find its own legitimacy in the black community," the statement read, "this band would graft the Party's name upon itself, which we condemn."
I've done a lot of reporting on the New Black Panthers, who are adept at receiving media attention that's disproportionate to their size and influence. Over the years, I've pressed NBPP Chairman Malik Zulu Shabazz for details on the actual size and funding of the NBPP, and while all he'll say is that the group is poorly-funded, those years of reporting have led me to believe that their membership is likely in the dozens. The contingent that showed up in Florida numbered eight strong. The right-wing media has consistently tried to exploit the group's penchant for just showing up to public events and protests to gin up fear of a creeping Black Menace, but the reality is quite different.
So, as City Manager Bonaparte urges calm, and speaks to Soledad O'Brien about "taking security very seriously" during this "tense moment," it's important to realize that, while bounties and "Wanted: Dead Or Alive" posters are, as Soledad O"Brien says, "a horrible new development," the degree to which anyone is alarmed by this should be tempered with the recognition that people are not going to take up arms just because the New Black Panthers went to Kinko's.
According to April Kellogg of Fox's Tampa Bay affiliate, even the NBPP might not pursue Zimmerman. She reports that the Sanford Police talked with members of the group yesterday, telling them "they had the investigation under control," and that "handing out those wanted fliers was doing nothing but inciting violence," at which point, Kellogg says, "the group backed off and stopped their protests."
Here's Kellogg's report, from Fox affiliate WTVT-TB:
Have a tip we should know? tips@mediaite.com