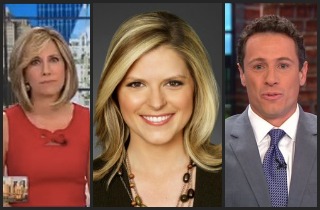 To properly explain my perspective around Alisyn Camerota replacing Kate Bolduan on CNN's New Day, we need to go back to June 1, 1925, when a guy named Wally Pipp played his last game at first base for the New York Yankees. (Whoa, wait. Has Concha started the weekend festivities earlier than usual by comparing an unknown baseball player in the '20s with an anchor change on a cable news morning show 90 years later? Actually, no, just bear with me for a second).
You see, Pipp was the Yanks' everyday first baseman since 1915. But everything changed on June 2, 1925 when, according to a popular retelling in the New York-World Telegram, Pipp said he couldn't play due to a headache. Manager Miller Huggins subbed in a guy named Lou Gehrig for Pipp. Long story short: Gehrig didn't relinquish that gig until 2,130 games later. "I took the two most expensive aspirin in history," Pipp famously joked.
So what does an old baseball tall tale have to do with Kate & Aly? Well, it's a good analogy: Bolduan is Wally Pipp.
To be clear: She didn't necessarily lose her job by performing poorly while sitting next to Chris Cuomo and Michaela Pereira. In fact, Bolduan was more than fine. Just try to go back and find reports about a series of gaffes, a dumb question, an inappropriate tweet, or anyone accusing her of bias in her questions to liberals or conservatives. Hard to find, right? That's because Kate is a solid, measured, prepared anchor (and not a phony). For a 30-year-old with no anchoring experience at this level, she filled the role quite competently. But in the end, she just wasn't morning material for whatever reason.
All of that said, Bolduan is Pipp because she went on maternity leave last year, leaving Camerota — a 9-year vet of hosting on cable mornings and 16 years reporting on a national stage overall — there to play the figurative role of Gehrig, with CNN chief Jeff Zucker as Huggins, who likely signed Camerota with the plan in mind to eventually replace Bolduan. Kate's pregnancy just made the move much easier for the boss (by getting Aly enough at-bats for the audience to get to know her) while saving some face in the process.
Okay, so Camerota has experience, but that obviously isn't everything. Sometimes it's even a detriment, particularly in cable news where familiarity sometimes breeds contempt. So why make the move? Four words: You can't teach chemistry. And when it came to that aspect between Cuomo, Pereira and Bolduan on New Day, it either rarely existed or felt awkward — forced.
And therein lies the rub for Bolduan: Camerota has been on national television this long because she has (based on what we've seen in the past) a unique ability to make those around her better and — more importantly in the world of infotainment — make everyone more likable to the audience. Simply put, at least from looking from the outside in, she knows how make a set feel more relaxed because — unlike more than a few in the industry — she doesn't appear to be putting on an act and showcasing a personality that only exists when the red light is on. These numbers aren't exact, but Camerota probably had at least 10 different pairs of co-hosts to quarterback during much of her time on Fox & Friends Weekend (due to turvover and various combinations of bake-offs to find replacements). Even those who always have bad things to say about Fox never seem to include her in the criticism, hence her survival on a three (and even four) hour show that gave her amble airtime even if only on the air two days a week.
So does this mean New Day will soar to new heights from a ratings perspective? Not sure it's built to do that. If the program was to be compared to any other, you would have to look to CBS This Morning, which will never be confused with the fluffier (and more highly-rated) Good Morning America or The Today Show. Why? Because New Day — like This Morning — tends to mostly stick to hard news while Morning Joe is a free-flowing roundtable of niche inside-the-Beltway talk and Fox & Friends is a potpourri of political analysis, interviews, human interest and entertainment segments. That combination has worked for a #1 show, leaving New Day, Morning Joe and Robin Meade's Morning Express to fight it out for second.
Ultimately, most would agree that Camerota is the better fit next to Cuomo. And if the show continues to underperform (averaging only 104K viewers in the key 25-54 demo in 2014) given the expectations for it when it first debuted in the summer of 2013, the blame will no longer be because of Bolduan, or story selection, or the set, or because Pereira isn't getting enough airtime (hint: she isn't). Instead, the finger–fairly or not–will be pointed squarely at Cuomo if that isn't already happening.
There may be three people on the set, but New Day is Cuomo's show. And if you strike out with Alisyn Camerota — the Iron Horse of morning cable news — at your side, well, guess what: You're the problem.
— —
>> Follow Joe Concha on Twitter @JoeConchaTV
Have a tip we should know? tips@mediaite.com