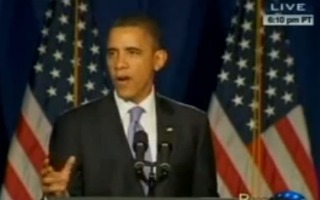 Speaking to donors at a New York City fundraising event, President Barack Obama mentioned Gandhi and Nelson Mandela as examples of individuals working to create change.
Here's what he had to say:
RELATED: Obama Responds To 'No War With Iran' Heckler: 'You're Jumping The Gun A Little Bit, There'
The civil rights movement was hard. Winning the vote for women was hard. Making sure that workers had some basic protections was hard.

Around the world — Gandhi, Nelson Mandela — what they did was hard. It takes time. It takes more than a single term, it takes more than a single president, it takes more than a single individual.

What it takes is ordinary citizens who keep believing, who are committed to fighting and pushing and inching this country closer and closer to our highest ideals. And I said in 2008, that I am not a perfect man and I will not be a perfect president. But I promised you back then that I would always tell you what I believe. I would always tell you where I stood.
Now, some, including Real Clear Politics, think the President is comparing himself to Gandhi and Nelson Mandela here.
I'd venture to say that Obama is likening a collective "us" to activists like Gandhi and Mandela. After all, he mentions that "it takes more than a single president" and more than any single individual.
What do you think, you perfect, Gandhi-like angels, you? Have a look and weigh in:
h/t RCP
Have a tip we should know? [email protected]