Enraged Man Pulls Knife On TV News Crew, Stabs Equipment: 'I Will Beat You Down!'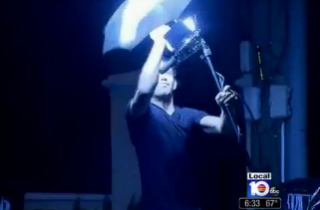 On Tuesday evening, WPLG reporter Ross Palombo and his photographer Shane Walker were met with some outrageous violence as they prepared to go live for a news broadcast. While setting up for a report on the tax cheating of a particular homeowner, from in front of his gated mansion, the news crew was attacked by the man in question.
Apparently incensed by the presence of a news crew outside his luxurious home, Louis Paolino III came out onto the street and began stabbing the TV station's lighting equipment. The entire ordeal, which was caught on camera, began with Paolino approaching the crew and asking them to shut off the camera. When the photographer refused and asked "Are you threatening me?" the angry homeowner responded: "I am promising you that I will rip that thing off your shoulder so quick and beat you down with it."
Video footage shows Paolino going on a rampage, stabbing the spot light lamps and carrying the broken light stands back onto his property. He returned seconds later and began cutting the crew's electric cables with the same knife. Damage to their equipment has been estimated in excess of $1,400.
Any guesses as to which state this occurred within? Yep. Florida.
According to the WPLG report, Paolino had more than $100,000 in unpaid property taxes while living in the lavish $5.2 million Fort Lauderdale estate.
Paolino was not arrested at the scene, but turned himself in the next morning at the Fort Lauderdale Police Department. He was taken into custody and charged with aggravated assault, criminal mischief and grand theft. Police offered no comment as to why he was able to walk free from the scene of the crime on Tuesday evening.
Watch the incident below, via WPLG:

[h/t FTPLive]
— —
>> Follow Andrew Kirell (@AndrewKirell) on Twitter
Have a tip we should know? tips@mediaite.com