Ex-CIA Director: Blood on Snowden's Hands for Paris, Should Be 'Hanged by the Neck'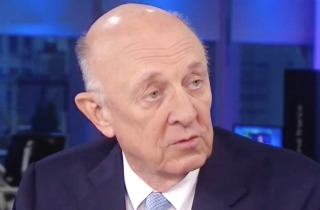 The former director of the CIA continued the Edward Snowden-blaming over the Paris terrorist attacks today with some pretty strong language.
CNN's Brooke Baldwin spoke with James Woolsey about encrypted apps being used by terrorists and the suggestion that they might be doing this because of what Snowden revealed about U.S. intelligence.
Woolsey told Baldwin that Snowden should not just be convicted of treason, but he "would prefer to see him hanged by the neck until he's dead rather than merely electrocuted."
He said, "The blood of a lot of these French young people is on his hands… because of what he turned loose."
Now, making any kind of direct link between Snowden's exposure of classified documents and the Paris attack is certainly very questionable, and Glenn Greenwald said this week it's an easy fallback for current and former members of the intel community to blame Snowden after "they fail miserably in their job" of preventing terrorist attacks. And after Woolsey appeared on CNN, Greenwald blasted both him and the network on Twitter:
Look at 1) how deranged Woolsey is; 2) the CNN actress playing role of "journalist" on TV: 3) no mention of NYT/WP https://t.co/DAOFk13osK

— Glenn Greenwald (@ggreenwald) November 19, 2015
In 6 days since Paris, has CNN put even one single person on to dispute the CIA's lies? https://t.co/DeXk2bYFip https://t.co/9z0AXpkMa8

— Glenn Greenwald (@ggreenwald) November 19, 2015
Rand Paul today also pushed back against the suggestion that the Paris attack means U.S. surveillance needs to be increased, literally crying "Bullshit!" at the idea.
Watch Woolsey above, via CNN.
[image via screengrab]
— —
Follow Josh Feldman on Twitter: @feldmaniac
Have a tip we should know? tips@mediaite.com
Josh Feldman - Senior Editor