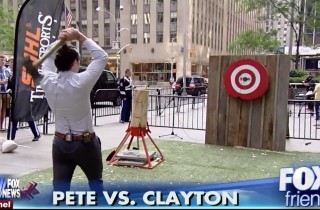 No idea how we missed this, but here it goes: During last Sunday's broadcast of Fox & Friends, co-host Pete Hegseth tossed an axe to tease an upcoming segment on timbersports, missed the target, and hit a marching band percussionist standing in the distance.
West Point's legendary Hellcats marching band played throughout the show, in honor of Flag Day and the Army's 240th birthday. One of its lead drummers, Jeff Prosperie, performed adjacent to the caged section where Hegseth grabbed the axe and tossed it at a large wooden board for a segment tease.
The axe flew over the target by more than a few inches and hit someone off-camera, behind the board. Fox showed Hegseth grimacing, while bystanders cupped their mouths in shock. The cameras then cut to the marching band, playing out the tease with the drum solo, while Prosperie walked around in the background, visibly grabbing his right arm. We never actually see the axe hit the drummer (more on that later).
Watch the moment below, as it aired on Fox:
In the following segment, Prosperie appeared again on-camera — this time for a brief interview with Hegseth, explaining the origins and history of the Hellcat band. Interestingly, Prosperie is no longer grabbing his arm and appears mostly uninjured. Hegseth doesn't at all mention what had just transpired minutes before. Watch the interview below:
But that wasn't the end of this story. On Saturday morning, Prosperie posted to his Facebook a lengthy emotional message about the incident:
I was hit by an axe while performing a drum solo live on National TV…..words I never imagined saying! This happened last Sunday and I have been reluctant to post but starting to receive inquiries from concerned family and friends. I am thankful to God that the double sided blade only hit broadside on the outer elbow with significant impact and a couple of cuts as it fell along my wrist. It could have been much worse or fatal. Focusing on full physical and emotional recovery.
Pressed for more information by friends and family, he elaborated:
My leadership told me they were told there would be no axe throwing. I think the anchor person went rogue and decided to throw it. He had only thrown it once before in practice for an upcoming segment and they told him to throw it with more force. The vid you see is edited showing the Televised portion of the throw and then edited to a portion that was taken on someone's phone of us being videoed. The part that was actually televised showed the overthrown axe and then segued to us for the drum solo bump, only showing me walking behind the section holding my arm. The actual part where the axe hit me was not televised. Poor decision, obvious negligence, should not have happened, could have been avoided. When shooting or throwing, always know what is behind your target. Basic safety rule. I'm feeling blessed on Father's day with my 5 children, alive, and with all limbs.
Indeed, the televised portion didn't show the axe actually hitting Prosperie. And so here's his footage showing the Fox video plus the actual moment of impact, as posted by Prosperie:
Prosperie did not indicate whether he will pursue legal action or was compensated immediately for the incident. We've reached out to both Prosperie and Fox News for comment.
— —
>> Follow Andrew Kirell (@AndrewKirell) on Twitter
Have a tip we should know? tips@mediaite.com