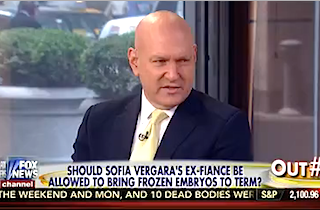 Whenever Fox News resident psychiatrist, Dr. Keith Ablow visits the Outnumbered couch, you expect some outrage to ensue. And Tuesday's #OneLuckyGuy did not disappoint during a discussion about the custody rights of Modern Family star Sofia Vergara's ex-fiancé when it comes to their frozen embryos.
"Good for him," Ablow said in response to Loeb's fight to bring the embryos to term, despite the couple's breakup. "Why would a woman's right to decide what to do with a frozen embryo trump a man's right every time?" he asked. "If he wants to bring these embryos to term, good for him. He wants to parent. If he wants to have them adopted, good for him. You know what, it's not a coin toss. It's whoever wants that potential being to survive, that's who wins."
Ablow then called out Vergara's role on the "liberal" Modern Family, where "anything goes," an implicit reference to the gay couple on the sitcom. "Interesting that when it comes to her choices in life, she wants all the control," he said. "Not very 'modern,' Sofia."
After repeatedly referring to the frozen embryo as a "child," Ablow added later, "I've been outspoken on this, I think men should be able to veto women's abortions if they're willing to care for the child after it's born."
Not one of Ablow's female co-hosts blinked in reaction to that comment.
Watch video below, via Fox News:
[Photo via screengrab]
— —
>> Follow Matt Wilstein (@TheMattWilstein) on Twitter
Have a tip we should know? tips@mediaite.com