Glenn Beck Regrets Calling Obama a Racist, Claims Warning of 'Caliphate' Coming True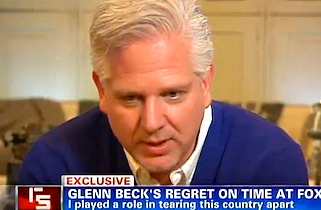 Glenn Beck appeared on Reliable Sources Sunday morning and discussed his departure from Fox News, how he thinks he's changed as a political commentator, and how many of the various apocalyptic warnings he's issued over the years are allegedly coming to pass.
Beck recounted the night before he left Fox, a story that involved Bono and an alternate ending for Spider-Man for some reason. He said he became ashamed of the opulent lifestyle he had developed while a Fox host and realized, "If you don't leave now, you'll lose your soul. Because I was just starting to want it."
Beck complained that a few errant comments had defined him as a commentator, at the cost of his larger message: "You go back and look at the transcripts, you find another show that talked about Gandhi, talked about Martin Luther King, talked about love, talked about God, talked about peace; I talked about those things all the time."
When asked about a comment on Fox & Friends that Obama had a "deep-seeded hatred for white people, " Beck replied, "When you live your life five hours a day on live television or radio, you're going to say stupid things."
"Was the racist comment one of the stupid ones?" host Brian Stelter asked.
"Of course it was," Beck said. "But we all live and learn."
"My job is to tell you what I believe is coming, and package it in a way that you will come and look at it and decide for yourself," Beck continued. "I absolutely believe that a lot of the things I said and was mocked for — caliphate being one of them — all of these things are happening. Look at Israel. Look at what's happening in Iraq."
Beck also praised Senator Bernie Sanders (I-VT). "Never met the man, but he's a Socialist. And he says 'I'm a Socialist.' Good for you! I could be friends with that man, because he tells me who he is. If we could just get past all of that bullcrap."
Rumors that Sanders stays up at night worried that Glenn Beck won't be friends with him went unconfirmed at press time.
Watch the clip below, via CNN:
[Image via screengrab]
——
>> Follow Evan McMurry (@evanmcmurry) on Twitter
Have a tip we should know? tips@mediaite.com