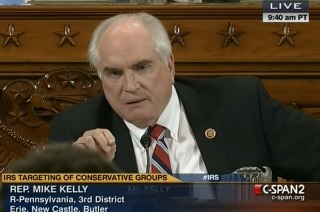 During a hearing of the House Ways and Means Committee investigating the claim that the Internal Revenue Service had singled out conservative groups applying for tax-exempt status for added scrutiny, Rep. Mike Kelly (R-PA) delivered a brutal takedown of the IRS. Kelly deemed the IRS officials' explanation for the politically-motivated targeting insufficient and said that their overreach was one reason why Americans' faith in their government was so low. The congressman's speech which was met with applause from the audience.

"If you think it's uncomfortable sitting over there, you ought to be a private individual when the IRS is across from you questioning," Kelly said to Acting IRS Commissioner Steven Miller.
"I have a grandson who is afraid to get out of bed at night because he thinks there's somebody under the bed that's going to grab him, and I think most Americans feel that way about the IRS," Kelly continued. "You get a letter from you folks or a phone call, it's with terror that you look at it."
Kelly said that the American people now think that the IRS can do whatever they want, whenever they want with little accountability. "This is very chilling for the American people," Kelly added.
"This is a Pandora's Box that has been opened," Kelly asserted.
"Where you're sitting, you should be outraged. But you're not," he continued. "The American people should be outraged, and they are."
"This is a huge blow to the faith and trust that the American people have in their government," Kelly blasted. He ran through a number of onerous questions and requirements that the IRS put to conservative groups applying for tax-exempt status. "And you don't think that's intimidating?" he asked rhetorically. "It's sure as hell intimidating."
"You talked about that you're a horribly run organization. If you're on the other side of the fence, you're not given that excuse," Kelly said. "When the IRS comes in, you're not allowed to be shoddy. You're not allowed to make mistakes. You're not allowed to be run horribly."
"This is absolutely an overreach, and this is an outrage for all Americans," Kelly concluded to thunderous applause from the gallery.
Watch the clip below via C-SPAN 2:
> >Follow Noah Rothman (@NoahCRothman) on Twitter
Have a tip we should know? tips@mediaite.com