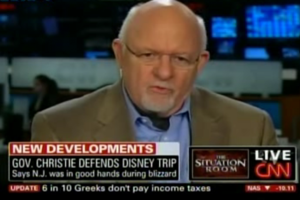 Not even a charming week in Disney World could temper New Jersey Governor Chris Christie's curmudgeonly disposition to the press, as he greeted them upon his return unapologetic about missing this week's snowpocalypse and generally disgruntled that his judgment was questioned. The grumpiness was reciprocated on CNN by GOP strategist Ed Rollins, who chastised the governor for being "whiny" about the criticism after not "being there."
Christie answered the criticisms in a press conference today, where he explained that he had been "on the phone" with many in the administration– and many in the press– and that he refused to cancel his children's "Christmas present." The excuse that both his plans and those of Lt. Governor Kim Guadagno to travel to Mexico this week were long in place did not sit very well with Rollins, who, while admitting to be a "big Christie fan," found the need to go to Disney World insufficient:
"I'm a big Christie fan. He's a role model of a lot of Republican governors who are coming in. In time of crisis– and this snowstorm has been a crisis, whether it's in New York City or New Jersey– you've got to be at the helm. And I've seen many many governors and mayors in the past destroy their careers by not being here."
He added that "to come back and be whiny about it and dismiss it" didn't help his cause, and fellow guest Hilary Rosen agreed. "Disney World is open 365 days a year," she quipped, and added that, to her, the most outrageous part of Christie's behavior was his application for federal grant money to help with the snowstorm. "All of the sudden he wants a bunch of money… he's such a hypocrite," she curtly concluded.
The two (along with host Suzanne Malveaux) then debated Christie's fate as a viable 2012 candidate, and the possibility that this Florida excursion would hamper it. Looks like the governor has a decent amount of damage control to do.
The debate via CNN below:

Have a tip we should know? tips@mediaite.com