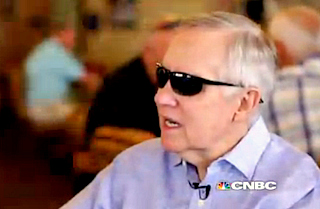 Sen. Harry Reid (D-NV) says he will force a vote on Loretta Lynch's attorney general nomination if it is delayed any longer by Senate Republicans, Mediaite has learned. Reid, the outgoing Senate minority leader, will call for the vote in an interview with MSNBC's Rachel Maddow set to air on Thursday night.
"We've put up with this far too long and we're going to need to have a vote on her very soon that's created by Mitch McConnell or I'll create one," Reid will say. "I can still do that. I know parliamentary procedure around here and we're going to put up with this for a little while longer but not much."
When Maddow questioned whether Reid has the power to override Senate Majority Leader Mitch McConnell (R-KY), Reid will say he "absolutely" has the power to force votes.
"If we don't get something done soon I will force a vote," the minority leader will say. "I had a conversation today with a number of republicans and told them really to get her done or I will make sure they will have an opportunity to vote against her."
Obama nominated Lynch back in November, and her delayed confirmation has been the subject of intense political back-and-forth. Former New York City Mayor Rudy Giuliani (R) called on Senate Republicans to stop the delay, and Senate Minority Whip Dick Durbin (D-IL) found himself in hot water over his suggestion that Republicans were putting Lynch, an African-American, in the "back of the bus."
Just yesterday, Al Sharpton's National Action Network called for a hunger strike over the stalled confirmation.
The full interview will air tonight on The Rachel Maddow Show at 9 p.m. ET on MSNBC.
[Image via screengrab/CNBC]
— —
>>Follow Andrew Desiderio (@forza_desiderio) on Twitter
Have a tip we should know? tips@mediaite.com