HBO's Girls Sees Smallest Premiere on Record Despite Hype; Dunham's PR Disasters to Blame?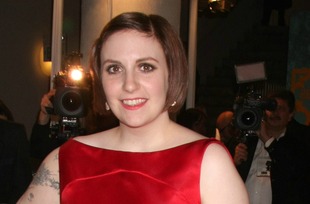 In what some might think is the best news of the day: The numbers are now out for the much-hyped fourth season of HBO's Girls… and they're ugly.
In the lush timeslot that is Sunday at 9:00 p.m., the program drew just 680,000 viewers, which is down 40 percent from last year's premiere (which also aired during the Golden Globes). In the key ages 18-49 demo, Girls raked in only 390,000 viewers, a drop of 35%. Context is everything, so it should be noted that the late Sex and the City averaged three million viewers in its fourth season. Needless to say, Sunday night's viewership total was the lowest ever for a Girls' season premiere.
Of course, its ubiquitous star, Lena Dunham — coming off of appearances last week on The Howard Stern Show to the Today Show (where Savannah Guthrie awkwardly offered up herself for a role on the show) to The Tonight Show — will likely find a way to blame Republicans/neocons/conservative white men for this ratings humiliation, as apparently the star is responsible for exactly nothing.
Doesn't matter which disturbing or debunked story you want to choose from, Dunham has turned off more than a few people who aren't conservative or politically active or male, particularly with these accounts of her unsettling interactions with her younger sister growing up:
As she grew, I took to bribing her for her time and affection: one dollar in quarters if I could do her makeup like a "motorcycle chick." Three pieces of candy if I could kiss her on the lips for five seconds. Whatever she wanted to watch on TV if she would just "relax on me." Basically, anything a sexual predator might do to woo a small suburban girl I was trying.
And:
I shared a bed with my sister, Grace, until I was seventeen years old. She was afraid to sleep alone and would begin asking me around 5:00 P.M. every day whether she could sleep with me. I put on a big show of saying no, taking pleasure in watching her beg and sulk, but eventually I always relented. Her sticky, muscly little body thrashed beside me every night as I read Anne Sexton, watched reruns of SNL, sometimes even as I slipped my hand into my underwear to figure some stuff out.
Once those anecdotes set off some public fury, Dunham went underground for a bit after her own self-described rage spiral. But once you thought she would be out of the spotlight — at least until the media came running to promote her new season premiere — along came a past sexual assault allegation she shared in the same book that somehow makes Rolling Stone's UVA frat house rape "exclusive" look like Pulitzer-winning material.
If you recall, Dunham claims she got high on Xanax and cocaine one evening in college and decided to bring "the resident campus conservative" named Barry home. From there, she claims he assaulted her. A few problems arose, however, once several publications ranging from Breitbart to Gawker (later) decided to look more closely into her account. You probably know the rest by now: The story was so full of holes that Dunham's own book publisher (Random House) was forced to alter future printings of the book while offering to pay for "Barry's" legal expenses that he amassed while attempting to clear his name.
The media, of course, still adores her. ESPN's Bill Simmons — my favorite writer — interviewed her today for Grantland and declared Dunham was a victim of a "smear campaign" despite overwhelming evidence to the contrary. Pains me to say it but the Sports Guy embarrassed himself today, allowing his subject to say this about the allegations against her for fabricating the campus rape story:
"That article [from Breitbart, debunking her claims] came out on the day after I launched a Planned Parenthood campaign and the day before the midterm elections," she explained, once again turning another topic into a partisan issue. "One thing I'll never say about right-wing websites–they're good at what they do." Simmons didn't bother to bring up Gawker or Random House or even remotely challenge her. Again, amateur interviewing from a big-time writer.
No matter. The media can protect Dunham as much as they wish. They can't change hard numbers; they can't change losing 40 percent of an audience year-to-year.
Ultimately, it illustrates the American public — conservative, liberal, male, female — all think Dunham and the program she writes and stars in is just as lacking as her credibility and integrity.
[Image via Shutterstock.com]
— —
>> Follow Joe Concha on Twitter @JoeConchaTV
Have a tip we should know? tips@mediaite.com