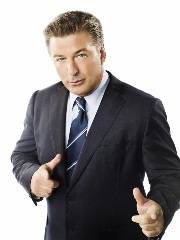 Well, look what you did this time, Jack Cafferty. You pissed off the president of east coast television and microwave oven programming on NBC.
After Cafferty dared to question the merits of Alec Baldwin's potential political run, Baldwin unleashed a sarcastic blog response on The Huffington Post. "All around 'Man of the People' Jack Cafferty spit on me on his broadcast today," writes Baldwin.
So what did Cafferty say? While discussing Al Franken and other celebrities running for public office, he said "Baldwin's credentials are questionable… but Franken is no slouch. He's Harvard educated."
This did not sit well with Baldwin, who turned the comment into a credential-off: "I only have a BFA in drama from NYU. Perhaps New York University should print on its undergraduate drama degrees 'Warning: the bestowing of this degree precludes you from seeking any public office per Jack Cafferty of CNN.'"
Cafferty, who has never shied away from a high-profile fight, will likely welcome this new feud. Our guess (and hope): a stinging response today on The Situation Room.
But at least Baldwin came around in his conclusion to take the high road:
I would like to make a deal with Cafferty. Jack, you don't tell people that a career in the performing arts disqualifies them from seeking elected office, and I won't say publicly that your being convicted of leaving the scene of an accident in which you struck a cyclist and then ran two red lights while you were pursued by the police and were subsequently ordered to serve 70 hours of community service back in May of 2003 disqualifies you from posing as a "Man of the People" on a major cable news network.
Yeah, good thing he didn't say that publicly.
—–
• Follow Steve Krakauer on Twitter
Have a tip we should know? tips@mediaite.com