John Stossel On The Poor: America's Poor 'Live Better Than Most Have Lived Through History'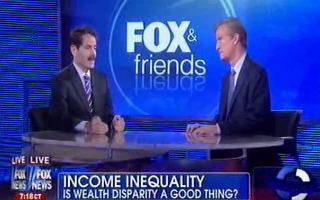 Fox Business Network Host John Stossel appeared on Fox & Friends on Thursday, where he discussed an upcoming special in which he investigates the lives of the poor in America and discovers just what level of deprivation there is in this country in 2012. Stossel said that "to be poor in America is to live a life better than most have lived through history."

RELATED: Stossel Appears On Fox In Chains: 'We Are On The Road To Serfdom'
"Americans fight inequality all the time," co-host Steve Doocy began. "And President Obama says we need to fix income inequality and fix it now." He says Stossel went to a local shelter to interview some of those who are members of America's less privileged class.
Stossel interviewed several people at a food pantry who told him that they had amenities like televisions, video game machines, cell phones and air conditioners.
Stossel said that there were two harmful myths that many believe about the nation's economic situation: "One is that the rich are getting richer and the poor are getting poorer," said Stossel. "The truth is, yes, over time the rich have gotten richer but so have the poor — 20 percent richer since I was in college."
Stossel said that "to be poor in America is to live a life better than most have lived through history." Fox put up a graphic that showed the "poorest fifth of Americans are now 17 percent richer than they were in 1967," according to the U.S. Census Bureau.
"The poor are not the same people," said Stossel highlighting what he calls another myth about the poor. "Oprah Winfrey was once on welfare, now she is one of the richest people in the world. There still is income mobility in America."
Stossel said that the mentally ill and people in shelters can have very hard lives and "I don't mean to make light of that." However, he said that the idea that government can fix their situations or that this is a great and growing crisis is "a lie."
Doocy said that when Stossel was younger, he believed that the rich owed it to the poor to lift them up. Stossel said that he still believes that. "The rich should share," said Stossel. "I give about 20 percent of my money to various charities." Stossel said that the War on Poverty, initiated in the 1960s, made progress initially but that progress stopped when "we thought people to be dependent."
Watch the segment below via Fox News Channel:
Have a tip we should know? tips@mediaite.com