Karl Rove: I Can't Believe Obama Said Something So "Simplistic And Frankly Ignorant"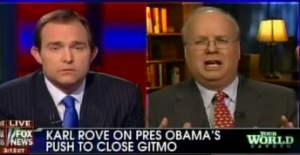 On today's Your World with Neil Cavuto, host Neil Cavuto may have been on vacation but don't worry, Karl Rove's dislike of President Obama never goes on vacation and Rove brought it with him as guest on the Fox News show. This time, after discussing Obama's campaign strategy for 2012 and potential common ground on tax reform, Rove got really hot under the collar on the issue of closing Guantanamo Bay.
During yesterday's press conference, President Obama said he is still committed to finding a way to close Guantanamo Bay because the prison "is probably the number one recruitment tool that is used by these Jihadist organizations." Rove was furious with this comment, alleging Obama "let his mouth get ahead of his brain" and further declared:
I'm tempted to send the President a Christmas gift here at the last minute – go to Amazon and order "Messages to the World: The Collected Writings of Osama bin Laden." If he were to read that book, he would find that there are at least six or seven other things . . . Gitmo is very rarely ever mentioned.
After rattling off a list of reasons why Rove believes the terrorists truly hate America (including support of Israel, American foreign policy, exploitation of Middle East oil and Western culture in general), Rove concluded that saying Gitmo is the number one recruitment tool is "simplistic and frankly ignorant." After this verbal blow, Rove tries to be a little cheerful adding "with all due respect to the President of the United States," because after all, it is Christmas time.
Watch the clip from Fox News below:
Have a tip we should know? tips@mediaite.com