Keith Olbermann Complained To Current That Car Service Drivers 'Smelled, Talked To Him'
Olbermann Complained To Current That Car Service Drivers 'Smelled, Talked To Him'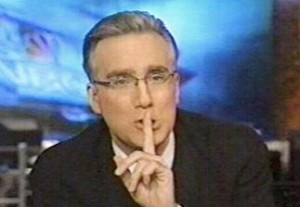 On the heels of Countdown host Keith Olbermann's firing from Current TV, the network and sources close to it have been quick to buttress their case for the dismissal with details of the temperamental star's antics. One such source tells Mediaite, among other things, that Olbermann went through 8 different car services (he doesn't drive), and complained to the network that some of the drivers "smelled," and "talked to him," the latter detail echoing a leak that once dogged then-Republican presidential candidate Herman Cain.
Earlier, Howard Kurtz tweeted that he was "Hearing allegation that Olbermann switched car co's and vendors because Current didn't pay the bills," which Olbermann retweeted, but our source says that is not true, that Kurtz has been contacted about the item, and that no one else at Current has had this issue.
The network fired Olbermann for what it says is breach of contract, citing unauthorized absences from work, failure to promote the network, and disparagement of the company and its executives.
In a statement following his dismissal, Olbermann said that "the claims against me implied in Current's statement are untrue," and complained that the network didn't keep its "promises and obligations and investing in a quality news program."
But according to our source, Olbermann's set, which was designed by production designer Jim Fengagen and cost about a quarter of a million dollars, was built to Olbermann's specifications. When the set experienced some lighting problems in December, however, Olbermann not only refused to use the set, he ordered his crew not to use it even for guest hosts.
While Olbermann is threatening legal action, and I'm no lawyer, it's tough to see how he has anything more than a balsawood leg to stand on, at least where his central complaint is concerned. Even the most casual observer, when faced with his gripe that the network wasn't spreading the cheddar around, would have to say "What did you expect?"
Olbermann went into this knowing that Current was pushing all of its chips (literally and figuratively) in on him, and that there would be some lean times for the network (not for Olbermann, who reportedly received about $50k per show) while they built their schedule, and their audience. Olbermann even acknowledged as much on a press call hyping the re-launch of Countdown, discussing the ways in which the network would work around its lack of resources with elbow grease and adaptability. For him to wake up a few months later and say "Where's the money, honey?" (even as his pockets were stuffed with it) smacks of bad faith. Ditto the kabuki scheduling theater he engineered over the network's coverage of the Iowa caucuses in January.
In addition to hissy fits about the car service and the set, the network says Olbermann refused to promote the network. According to our source, that included not allowing Current to promote the show when he was absent (almost half the time in January and February), the guest host or the program, including barring staff from sending out Twitter updates, and not allowing the guest host to promote the program.
They also say he refused to be in promotional material that included either Cenk Uygur or former Michigan Gov. Jennifer Granholm, or their shows, and wouldn't mention either of them on his own show. Behind the scenes, network executives have praised the surprising ratings success of Countdown's lead-in and lead-out programs, which at the time, sources said, didn't necessarily sit well with Olbermann. If he felt threatened by these successes, he may have been right: Days before he was fired, Current learned that The Young Turks has been beating him in the key 25-54 demographic, while execs have been citing strong audience retention by Granholm and Keith's fill-ins.
Olbermann plans to counter Current's PR offensive with an appearance on The Late Show with David Letterman on Tuesday, but it's unclear how much good it will do, or who the audience for that even is. The last time Olbermann was fired, the story dominated the news cycle for days, and generated significant traffic for this site. Last night, the news of Olbermann's firing was eclipsed (by more than double) by Piers Morgan's interview with Touré.
That same question can be said of Current, but given the performance of Olbermann's stablemates of late, they're no worse off without him, and a good deal more flush.
Have a tip we should know? tips@mediaite.com