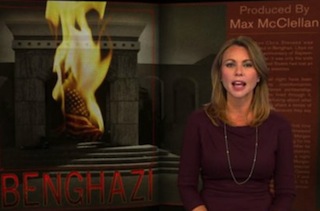 60 Minutes correspondent Lara Logan will be taking a leave of absence from the venerated television news magazine following last month's discredited Benghazi report.
Logan was supposed to host the Committee to Protect Journalists' press freedom awards Tuesday evening, but was replaced at about 1:00 p.m. by fellow 60 Minutes-er Scott Pelley. About twenty minutes later, media reporters Michael Calderone of the Huffington Post and Brian Stelter of CNN reported that Jeff Fager, chairman of CBS News, had asked Logan and her producer Max McClellan to take leaves of absence, to which they agreed.
"When faced with a such an error, we must use it as an opportunity to make our broadcast even stronger," Fager said in a memo. "We are making adjustments at 60 Minutes to reduce the chances of it happening again."
RELATED: O'Reilly to Kurtz on 60 Minutes' False Benghazi Report: 'Cut Them Some Slack'
Logan came under fire last month when the star witness for her piece on Benghazi was revealed to have given contradictory testimony to the FBI. 60 Minutes apologized for the report, which did little to quell calls for disciplinary action. Her leave of absence is the culmination of an internal review of the story.
Fager's memo is posted below, via HuffPost:
By now most of you have received the report from Al Ortiz about the problems with the 60 Minutes story on Benghazi.
There is a lot to learn from this mistake for the entire organization. We have rebuilt CBS News in a way that has dramatically improved our reporting abilities. Ironically 60 Minutes, which has been a model for those changes, fell short by broadcasting a now discredited account of an important story, and did not take full advantage of the reporting abilities of CBS News that might have prevented it from happening.

As a result, I have asked Lara Logan, who has distinguished herself and has put herself in harm's way many times in the course of covering stories for us, to take a leave of absence, which she has agreed to do. I have asked the same of producer Max McClellan, who also has a distinguished career at CBS News.

As Executive Producer, I am responsible for what gets on the air. I pride myself in catching almost everything, but this deception got through and it shouldn't have.

When faced with a such an error, we must use it as an opportunity to make our broadcast even stronger. We are making adjustments at 60 Minutes to reduce the chances of it happening again.

There is a lot of pride at CBS News. Every broadcast is working hard to live up to the high standard set at CBS News for excellence in reporting. This was a regrettable mistake. But there are many fine professionals at 60 Minutes who produce some of the very best of broadcast journalism, covering the important and interesting stories of our times, and they will continue to do so each and every Sunday.

Jeff Fage
Chairman, CBS News
Executive Producer, 60 Minutes
[Image via BI]
——
>> Follow Evan McMurry (@evanmcmurry) on Twitter
Have a tip we should know? [email protected]