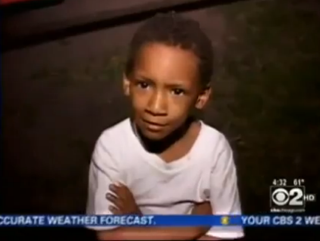 Chicago CBS affiliate WBBM has issued an apology after taking the comments of a four-year-old child out of context in relation to a shooting in the area. The child tells a reporter that the shootings don't scare him and that, when he grows up, "I'm going to have me a gun." This makes the child seem to aspire to commit shootings himself, but it was taken out of context– the boy expected to have a gun because he wants to be a police officer.
The story in question involved a drive-by shooting in the area, and several locals were on about whether they were fearful of future attacks. The four-year-old in question responded "I'm not scared of nothing," and when asked if he would stay away from guns, retorted "I'm going to have me a gun!" And that's where the original broadcast ends. The next line that was conveniently omitted? "I'm going to be police!"
The Maynard Institute rounded up the outrage in the academic community about portraying a four-year-old black boy as a "gangbanger in waiting"– and the NAACP reacted to the piece with disgust. NAACP President Ben Jealous noted in a recorded statement that his first reaction to the video was wondering where the child's parents were, but later called the inclusion of that clip without context "disturbing," both as an NAACP president and as a former journalist.
It didn't take long for the WBBM to respond, and immediately apologize for the gaffe. Gawker has the apology from the station:
We accept responsibility for the mistakes that were made, both in the reporting and editing of the story. The video of the child should not have aired. As soon as news management identified the problem, they took immediate steps to ensure that the video would not air in subsequent newscasts. In addition, we have followed up with our employees to make sure that we all have learned from the mistakes that were made.
It's entirely unclear whether the "follow up with our employees" included pink slips, but as far as media spin goes, it doesn't get much worse than making a four-year-old look bloodthirsty.
The video below is divided into three segments: The original WBBM report as it aired, the full footage of the child saying he wanted to be a police officer, and the statement from NAACP President Ben Jealous:

Have a tip we should know? tips@mediaite.com