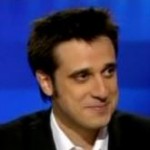 After four hours of electrifying tennis, 20-year old Juan Martín Del Potro defeated Roger Federer in the US Open final. It was an unexpected feat by the 20-year old Argentinean, who was playing his first Grand Slam final.
Once the players finished the round of gentlemanly statements that define a tennis trophy ceremony, presenter Dick Enberg rushed to explain in morbid detail the prizes for the champion. But Del Potro seemed to have other things on his mind—who knows, perhaps glory may not be a Lexus convertible, after all.
"Can I speak in Spanish?" Del Potro said when the presenter finally paused for a second.
"Ah, sorry, we are running out of time here," was Enberg's cold response
As Enberg kept talking about money, Del Potro looked as if he was being punished instead of crowned.
"And now, the presentation of the championship trophy…" Enberg went on.
But the man who had just beaten the greatest tennis player of all time still had some energy left. Politely, he requested to speak in Spanish for the second time.
"Very quickly, in Spanish, he wants to say 'hello' to his friends here and in Argentina," presenter Enberg patronizingly said.
"I want to thank my team—this would have been impossible to achieve without them", Del Potro said. "To all the Argentineans here, and especially to my mother, my father, Julieta, my grandparents and all my friends and the people who have supported me: This is for you."
And then he cried, as we normally do when we are allowed to express great emotions in our native tongue.
A champion should not have to beg for that.
The video: (fast forward to 3:20)
José Simián is a producer at NY1 Noticias, where he hosts a literature and music interview segment. His writing has appeared in NY Daily News, Huffington Post, Sports Illustrated Latino and Billboard en Español. He will be writing the "Meet The Prensa" column for Mediaite.
Have a tip we should know? tips@mediaite.com