Moody's Economist Still Doesn't Buy Awful Jobs Report: 'Weather Is All Over These Numbers'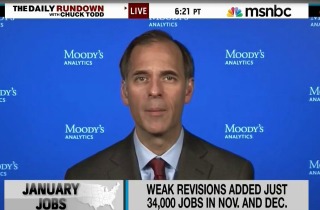 Following the release of a weak monthly jobs report in early January, Moody's economist Mark Zandi appeared on MSNBC with Chuck Todd where he said "I just don't believe" those numbers. Following another weak jobs report in February, and with the prior months' report being revised upwards by just 1,000 jobs, Zandi said he still believes that the fundamentals of the economy are improving and that "the weather is all over" these reports.

Only 113,000 new non-farm jobs were added in the month of January and the unemployment rate fell to 6.6%. Just 1,000 new jobs were added to a revised December jobs report, bumping that from 74,000 to 75,000 new jobs in the last month of 2013.
"Mark, last month, you thought the December number was sort of — wasn't going to fit the pattern that we were in," Todd said. "But now it looks like we have an issue here, does it not?"
"No," Zandi replied. "It was still really cold in January, really cold."
"I think the weather is all over these numbers," he added. "I don't think anything fundamental has changed."
RELATED: Moody's Economist to Chuck Todd: 'I Just Don't Believe' Terrible December Jobs Report
"I think we're going to get back on track as soon as the weather gets back on track," Zandi continued.
Reuters notes that, while the jobs report was weak, construction jobs — a primarily outdoor profession — recorded their largest increase in over a year in January. "[C]old weather probably was not a major factor in January," Reuters reported.
UPDATE: Appearing on MSNBC over the course of Friday morning, both economist Jared Bernstein and New York Times economics columnist Catherine Rampell dismissed the notion that weather was responsible for the lackluster January jobs report.
Watch the clip below via MSNBC:
[Photo via screen grab ]
— —
> >Follow Noah Rothman (@NoahCRothman) on Twitter
Have a tip we should know? tips@mediaite.com