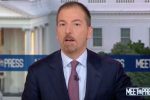 Chuck Todd is a journalist and television host, who currently hosts NBC's "Meet the Press". He also hosts Meet the Press Daily on MSNBC and is the Political Director for NBC News. He also appears on Today and NBC Nightly News with Lester Holt as a political analyst.
Chuck Todd Q&A
Where did Chuck Todd go to college?
George Washington University, but never graduated.
Who did Chuck Todd replace on MTP?
Before MTP, Todd was NBC's chief White House correspondent and hosted The Daily Rundown. He replaced David Gregory.
Chuck Todd Noteworthy Stories
June 23, 2019
Chuck Todd was shocked by President Donald Trump again claiming he did not actually lose the popular vote in 2016.
February 16, 2017
Chuck Todd calls Trump's delegitimization and labeling the press "fake news" "not a laughing matter and unAmerican."
Latest Chuck Todd Stories