MSNBC Contributor And Guest Host Rails Against 'Crazy Crackers On The Right' Who Use 'Hateful Language'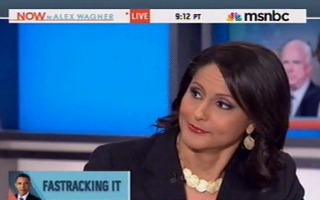 During a conversation about the Democratic Party's strategic ability to isolate Republicans as the conservative party makes an attempt to ingratiate themselves among Latino voters, MSNBC contributor and frequent guest host Karen Finney said that the Republican Party's base will probably scuttle the party's hopes of an electoral comeback among Hispanics. Finney said that the "crazy crackers on the right" who use "hateful language" would doom the GOP's chances for a comeback with Latinos.

RELATED: MSNBC's Karen Finney: Will GOP Rally Around Cain Despite Accuser Being White?
Finney noted that the last time the Republican Party took the lead on immigration reform in 2005 and 2006, the party ended alienating more Hispanic voters than they courted.
"We had evangelical Latinos wanting to meet with Howard Dean at the DNC," said Finney, who served as Democratic National Committee communications director at the time. "That's a shift, right?"
"We saw in droves the Latino community moving over to the Democratic Party largely because of the tone," Finney continued. "Even Republicans in the Republican Party who were Latino just disgusted with the tone."
"Those crazy crackers on the right, if they start with their very hateful language, that is going to kill them in the same way that they learned, at their little retreat, let's not talking about rape," Finney concluded.
UPDATE: Finney took to her Twitter account following her appearance on Now to clarify her remarks and apologize if they had offended any of MSNBC's viewers.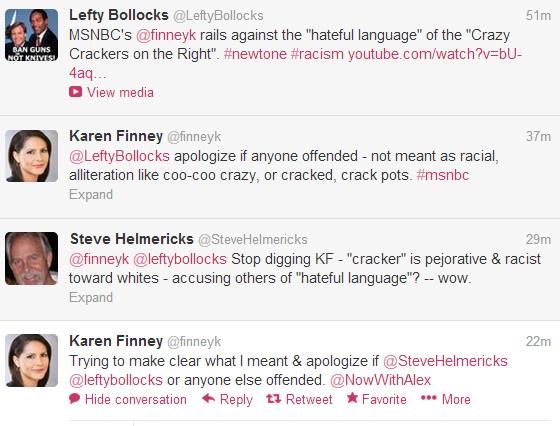 Watch the clip below via MSNBC:
> >Follow Noah Rothman (@NoahCRothman) on Twitter
Have a tip we should know? tips@mediaite.com