Nancy Grace Says 'F**king Coons' Uncensored While Railing Against Zimmerman's 'Hatred' For Trayvon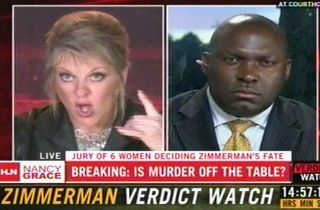 While speaking Saturday night with Trayvon Martin's family attorney, shortly before the verdict was read for George Zimmerman's acquittal, HLN host Nancy Grace said "fucking coons" live on-the-air while railing against what she considers to have been the defendant's undeniable "hatred" for the teenager he shot.
After Martin family lawyer Daryl Parks made the claim that no one will be happy with the then-upcoming verdict, seeing as how the late teenager will never be brought back to life, Grace stepped in to say that she believes, based on the audio recordings, that Zimmerman had an unquestionable sense of ill will towards the victim:
"I'll tell you what I think made a difference. When that 9-1-1 tape first came out — and everybody, get ready, this is graphic language — when it first came out that Zimmerman had said 'fucking coon' on the 9-1-1 call, to me, that was open-and-shut that that showed open ill will and hatred. Now they've revised it to say he said 'These punks, they always get away with it.' I'm wondering if that reinterpretation of what he said made a difference as to a jury finding ill will in Mr. Zimmerman's heart."
Parks responded that he believes the jury will likely "come to a compromise" on whether Zimmerman had any form of animosity towards 17-year-old Martin.
In her coverage of the trial, Grace had repeatedly made reference to the "fucking coons" slur she believes Zimmerman clearly said during his call to the non-emergency line of the Sanford Police Department. In a recent interview with the defendant's friend Joe Oliver, HLN bleeped the hostess out as she repeated the slur on-air, but for whatever reason, they opted not to do so this time around.
Watch below, via HLN:
— —
>> Follow Andrew Kirell (@AndrewKirell) on Twitter
Have a tip we should know? tips@mediaite.com