NRA CEO LaPierre And New President Porter Slam Obama's 'All-Out Historic Attack' On 2nd Amendment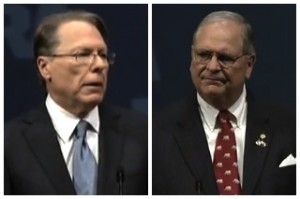 While political figures like Sarah Palin and Sen. Ted Cruz (R-TX) may have made the biggest splashes at this year's NRA convention in Houston, Texas, the leadership of the organization was also out in full force offering their best defenses of the Second Amendment against an Obama administration they believe is trying to take gun owners' rights away.
NRA CEO and executive vice president Wayne LaPierre looked back to one year ago when he says he predicted that if President Obama was re-elected, he would "launch an all-out historic attack against our Second Amendment and the personal freedom of hundreds of millions of law-abiding Americans."
LaPierre lashed out at the media for calling him "paranoid" and said "a lot of Americans were deceived into believing" that Obama would protect their rights. "It didn't take long for the real Barack Obama to show himself," he said, pointing to the executive orders he signed following the Newtown shooting. "Apparently, there is nothing the president will not do to get something — anything — through Congress to advance his agenda to destroy the Second Amendment."
Watch LaPierre speak below:
The NRA's newly-elected president, Jim Porter, also delivered remarks, making his most high-profile speech since he called Obama our "fake president" last June. This time he called the president "community organizer-in-chief" and singled out Obama's 2012 campaign trail comment "voting is the best revenge" to dig into his motives for advocating gun control.
"Revenge is what is motivating the president's unrelenting attacks on gun owners today," Porter said. He decried Obama's "step-at-a-time gun owner registration under the guise of universal background checks." But just because Obama lost his Senate vote, Porter warned, he will not be giving up this fight. He accused the president of "scheming to create gun control by bureaucracy" while being "AWOL on virtually every threat facing this nation."
Watch Porter speak below:
—
>> Follow Matt Wilstein (@TheMattWilstein) on Twitter
Have a tip we should know? tips@mediaite.com