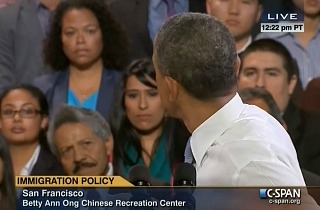 During remarks in San Francisco on Monday where President Barack Obama pushed lawmakers in Washington D.C. to pass comprehensive immigration reform measures, the president was subject to a lengthy heckling by a pro-reform activist. The heckling devolved into a conversation between the heckler and Obama when the immigration reform activist refused to let the president respond to his hectoring.

"Our families are separated. I need your help," the protester said repeatedly as he spoke over Obama's prepared remarks.
"That's what we're talking about," Obama said, turning to the heckler.
"Please, use your executive order to halt deportations for all 11.5 [million] undocumented immigrants in this country," the protester continued. "You have a power to stop deportations for all undocumented families."
"Actually, I don't," Obama replied. "And that's why we're here."
The chant of "stop deportations" broke out while the president attempted to regain his place in his prepared remarks. The president directed security to leave the heckler in place while he talked with him.
"If, in fact, I could solve all these problems without passing laws in Congress, then I would do so," Obama assured the protester. "But we're also a nation of laws. That's part of our tradition. And, so, the easy way out is to try to yell and pretend like I can do something by violating our laws."
"What I'm proposing is the harder path, which is to use our democratic process to achieve the same goal that you want to achieve," he continued. "But it won't be as easy as just shouting."
Watch the clip below via C-SPAN:
[Photo via screen grab]
— —
> >Follow Noah Rothman (@NoahCRothman) on Twitter
Have a tip we should know? [email protected]