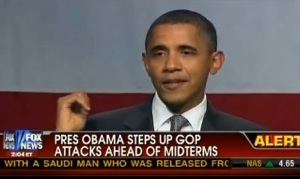 Has President Obama's tone become increasingly partisan? Megyn Kelly seems to think that it has, though one wonders what tone he should take while campaigning for his own party. But it was one recent comment in particular, made while the President was in Woonsocket, Rhode Island that "is raising a lot of eyebrows," according to the America Live host. Mr. Obama had this to say about the GOP joining Democratic efforts for reform: "They can come for the ride, but they gotta sit in back." One can only imagine the imagery this comment will conjure for all parties involved.
The Associated Press reports:
President Barack Obama attacked Republicans with gusto Monday as he plunged into a final week of midterm election campaigning, but his party's prognosis remained darkened by the feeble economy and his itinerary was designed largely to minimize losses.

…

He said Republicans had driven the economy into a ditch and then stood by and criticized while Democrats pulled it out. Now that progress has been made, he said, "we can't have special interests sitting shotgun. We gotta have middle class families up in front. We don't mind the Republicans joining us. They can come for the ride, but they gotta sit in back."
"Getting in back" is a phrase that very clearly hearkens back to Rosa Parks and the civil rights struggles of the 60s. Some may even see this as clear evidence that a Black president is telling a white GOP that it's their turn to ride in back. Either way, Megyn Kelly's eyebrows are raised. She claims that many others' are as well—so it's probably a safe bet that this isn't the last we've heard about this comment.
While many will find Obama's remark to be standard fare for the last week in a heated political season, just as many will find this quote fraught with meaning. We're left only to debate whether or not said meaning was intended.
After watching the video clip below, check out Robert Gibbs's reaction to Mediaite's own Tommy Christopher in today's White House briefing.
Have a tip we should know? tips@mediaite.com
Colby Hall - Founding Editor