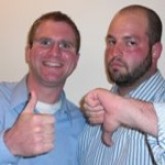 Who: "Late Show with David Letterman" writers interviewed by Jason Sudeikis
What: New York Television Festival's "CBS's Late Show Writers Room"
Where: The Times Center
When: September 22, 2009
Thumbs: Way Up
It's a wonder how nine talented and funny people can share a stage without competing for attention, fame or credit. It's more amazing that these same writers can work together each and every day to produce punch lines and antics for their boss, David Letterman.
Jason Sudeikis oriented the discussion around the day-to-day activity and schedule that the writers follow. They arrive at 9 a.m. and begin pitching ideas from reading newspapers and sites like Drudge Report. The Top Ten list gets written throughout the day, constantly being tweaked and reconsidered. In the afternoons, they refine sketches, add animation and music, and go through a rehearsal run before the 4:30 show taping.
Such a structure for the day is necessary to keep the schedule intact, but what happens inside of a given day, they say, can border on all-out chaos. They plan out a rough sketch of the week in advance, though topical jokes pop up all the time pushing off segments for up to weeks. One of the writers compared the job to working for a daily, weekly and monthly publication all at once.
They say that they have learned to embrace the hectic pace of the office because it allows for last-minute rewrites, additions and some timeless Letterman improvisations. They've all learned to write in Letterman's tone and voice – from the monologue to interview subjects.
This is one of the many areas where Sudeikis succeeded in identifying with the writers' point. Sudeikis said that he and the rest of the "Saturday Night Live" cast must adhere to both the business and comedic standards set forth by Lorne Michaels. But it's not all about pre-produced material. Though these comedians work on scripted material, they appreciate the organic surprises of the show. It is Letterman's strong suit, the writers say, and he showed it when he carefully navigated through some discomfort in recent months at the hands of Joaquin Phoenix and Sarah Palin.
Letterman's somehow found a way to take presumed setbacks and to use them to propel his show forward. His writers follow his cues.
What They Said
"We're just making mounds and mounds of cole slaw every day and just hoping for one serving."
– Bill Scheft says that you shouldn't get emotionally involved with your jokes since most of them wind up getting trashed
"When we're clicking, Joe Biden gets it and Sarah Palin gets it."
– Jason Sudeikis says that comedians aren't setting out to make enemies
"When we come to work and the Vice President shoots someone in the face, we go home early. It's the best day ever."
– Head writer Justin Stangel says that sometimes the material writes itself
"The toughest part of the job is a blank page every day."
– Jeremy Weiner said he filled that blank page with 72 different jokes one day
"It's like the '99 Bulls when Phil Jackson was wondering 'Why aren't we good anymore?"
– Jason Sudeikis responding to writers' saying that their jokes don't sound as funny when they are delivered by Letterman substitutes
What We Thought
It was interesting to learn that the Top Ten List originated as a parody of the proliferation of such lists by other entertainment outlets. Twenty-four years after "The Top Ten Things That Almost Rhyme With Peas" started it off, the segment has become a mainstay of the nightly show.
We appreciate and commend the Letterman team's strict rules to push the envelope without being vulgar. The staff says that applicants who feel the need to cross this line are immediately discarded. This decision contributes to high quality late-night television.
A good number of writers said they began as low-level pages or interns at CBS. We are delighted to hear that hard work pays off at the network.
PANEL RULES!
Some audience behavior seems to repeat itself panel after panel. We'll be updating a running list of "PANEL RULES!" that will help ensure that you are not the dweeb of the Panel Nerds.
Panel Nerds don't like… Misinterpreters
If you'd been paying more attention during the panel you would have saved yourself the embarrassment of asking who among the Letterman staff writes the scripts for the celebrity interviewees. Earlier in the night, the writers did reveal that they prepare the interview subjects by running some open-ended questions by them, in hopes of finding something worth retelling later. But by no means did that translate to mean they write a script for the actors to memorize as if it's a role. Know your role, slow your roll.
Panel Nerds Etan Bednarsh and Danny Groner are New York-based writers and avid panel-goers. Want them at your panel? Email them here: PanelNerds@mediaite.com
Have a tip we should know? tips@mediaite.com