'Radical Islam Is Regenerating': Sen. Graham Isn't Letting Up On The 'Enemy Combatant' Argument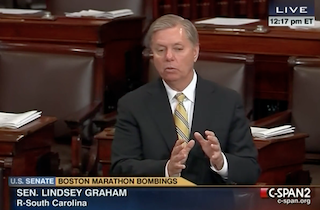 In recent days, Sen. Lindsey Graham (R-SC) has made it abundantly clear that he favors treating Boston bombing suspect Dzhokhar Tsarnaev as an enemy combatant. Even though the White House said yesterday that they will not do so, Graham took to the Senate floor on Tuesday to reiterate his case. Tsarnaev's ties to "radical Islam," he argued, are justification enough.
Citing past cases, Graham noted, seeking to demonstrate that the move would not set a concerning precedent, that "the courts have blessed the holding of American citizens as enemy combatants." With the current process, and Tsarnaev allowed to lawyer up, the senator contended intelligence gathering is controlled by the suspect and his attorney — which isn't smart.
He then went on to draw the connections to "radical Islam."
"We're at war with a radical ideology that hates everything that we stand for," Graham said. "As a matter of fact, radical Islam is regenerating. And the way they are coming after us, is to find people in our own backyard and turn them against us. How could we have missed this?"
"Here's what we're suggesting," he later added, that the surviving suspect, due to the ties that these two have to radical Islamic thought and the ties to Chechnya — one of most radical regions in the world — that the president declare preliminarily that the evidence suggests this man should be treated as an enemy combatant. We could hold him for a period of time. We could question him without a lawyer. And none of the evidence could be used against him in the criminal proceeding."
On Monday, the White House said Tsarnaev would not be treated as an enemy combatant and would stand trial in civilian court.
Take a look, via C-SPAN:

Have a tip we should know? [email protected]
---