Rick Perry Leaves Door Open For a 2016 Brokered Convention Run: 'Whole New Ball Game'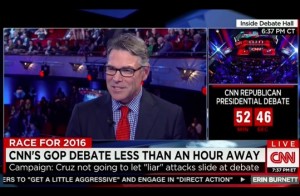 During an interview with CNN's Erin Burnett on OutFront Thursday night, former Texas Governor Rick Perry seemingly left the door open on entering the 2016 race if it reaches the brokered convention stage.
Burnett brought up the topic of Perry entering the race, and pushed for clarification as to whether Perry was specifically referring to himself when he said a brokered convention might pique the interest of others looking to get in. Despite Donald Trump's lead through four states, many people suspect he may fall short of the required 1,237 delegates to earn the nomination, prompting what Perry referred to as "a whole new ball game".
The former Texas Governor refused to outright rule out the possibility, telling Burnett:
Perry: The fact of the matter is I think this campaign — if there is an odd twist to it, it will be no one gets enough of the delegates to get the nomination and you go to a brokered convention. At that particular point in time it's a whole new ball game for everyone.

Burnett: And that could be a new ball game for you?

Perry: Everyone.
Burnett noted that the idea was first floated yesterday by RedState's Erick Erickson, following the announcement that Governor Perry would not face charges from the Texas Court of Criminal Appeals over abuse of power:
I'd supporter @GovernorPerry in a third party run. https://t.co/0yTR11jywA

— Erick Erickson (@EWErickson) February 24, 2016
Watch the interview with Erin Burnett and Rick Perry above from CNN.
[image via screengrab]
—
Have a tip we should know? tips@mediaite.com