Robert Reich Challenges O'Reilly: 'Be a Man, Have the Courage, Let's Debate'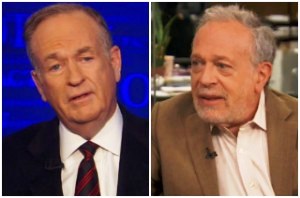 Robert Reich really wants to go on The O'Reilly Factor. The economist and former Secretary of Labor under President Bill Clinton challenged Bill O'Reilly to a debate today both on HuffPost Live and in a column for The Huffington Post. "Be a man, have the courage, let's debate," Reich said to O'Reilly.
The fight between these two ideologically opposed figures began last year when O'Reilly called Reich a "communist," a point Reich brought up in a New York Times op-ed titled "American Bile" this past week. After telling the story of how a man in an airport came up to him and called him a communist because he'd heard the same from O'Reilly, Reich wrote, "I don't think Bill O'Reilly really believes I'm a Communist. He's just channeling the nation's bile."
O'Reilly then responded to the article on his show, dismissing the year-old comment as nothing more than a joke and saying he stopped having Reich as a guest on his show once he started "cheap-shotting us."
"Bill O'Reilly has been calling a lot of people a lot of things for many years," Reich told HuffPost Live Wednesday. He said The O'Reilly Factor and shows like it contribute to an atmosphere where both sides of the political spectrum "demonize" each other and no actual "conversation" takes place.
"I have said to Bill O'Reilly," Reich continued, "will you please have me on your show so we can debate this?" Since he's had no success getting booked on the Fox News, Reich said he would be happy to debate O'Reilly on HuffPost Live (a proposition that seems far less likely to be fulfilled). "I challenge you," Reich said into the camera. "Be a man, have the courage, come on here and let's debate."
Watch video below, via HuffPost Live:
And watch the full The O'Reilly Factor segment on Reich from last week below, via Fox News:
[photo via screengrab]
— —
>> Follow Matt Wilstein (@TheMattWilstein) on Twitter
Have a tip we should know? tips@mediaite.com