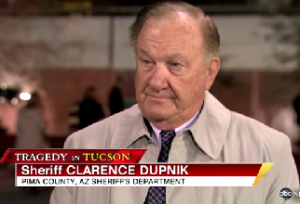 Pima County Sheriff Clarence Dupnik continues to make news both as he leads the investigation of the Arizona shooting and as he continues to express his feelings regarding why the horrific event occurred. Yesterday he appeared with Fox News anchors Geraldo Rivera and Megyn Kelly to explain why he thought "vitriolic rhetoric" contributed to causing the tragedy, and this morning on Good Morning America he told George Stephanopoulos that he's angry and just expressing his opinion.
Regarding the investigation, Dupnik confirmed there was no doubt that the shooter acted alone and specifically targeted Congresswoman Giffords. Additionally, Dupnik said the suspect has not been cooperative and has said nothing since being detained. Regarding the sheriff's personal feelings on the incident, he explained:
"We have become a very angry country, part of it very ugly. And that even though we have free speech in this country, constantly 24 hours a day, 7 days a week, making the people angry at government . . . may benefit some party, but I think those people have to consider that they may have some responsibility when incidents like this occur and may occur in the future."
The sheriff offers no apologies for sharing his opinion on the matter, saying he doesn't have an agenda, but just that "I was very angry at the time I said those things and I'm still angry." The personal connection he had to the victims, which he reveals during the interview, clearly is what drives his passion to speak out and to say what he feels must be heard in order to prevent this from occurring again.
Watch the clip from ABC News below:

Have a tip we should know? tips@mediaite.com