Soledad O'Brien Spars With Lawmaker Over 'Unreasonable' Bill To Counter 'Pop-Tart Gun' Suspension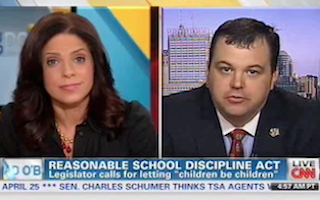 On Monday's Starting Point, Soledad O'Brien took on Maryland state senator J. B. Jennings who proposed a new bill after a seven-year-old boy got suspended for eating his breakfast pastry into the shape of a gun. The Republican lawmaker, in an attempt to avoid this type of response, has put forth the "The Reasonable School Discipline Act of 2013" — and O'Brien thought it "problematic."
"It was already a rectangle and I just kept on biting it and biting it and tore off the top and it kinda looked like a gun but it wasn't," Josh Welch, a second grader, said about the incident. "All I was trying to do was turn it into a mountain but, it didn't look like a mountain really and it turned out to be a gun kinda."
Asked whether such incidents merit legislation, Jennings replied, "Boards of education have talked about addressing it, but they haven't. It's taken us months to get to this point. And you have a child that's gotten suspended for eating a Pop Tart into the shape of a gun. It's time to talk about it."
O'Brien still questioned the approach though, wondering if there aren't more important issues that time could be spent on. "The original problem to me seemed there was a lack of flexibility in understanding how to deal with small children," she asserted. "And what your legislation does is the opposite thing, but kind of the same thing."
The law would give "discretionary back to the principals, back to the teachers," Jennings argued. O'Brien still pressed him. Agreeing that the ordeal with the suspension was silly, she asserted:
"The fact that we're continuing the conversation around something that seems to be common sense and reasonable behavior for people who are dealing with little people — who are usually not particularly reasonable and don't have a lot of common sense sometimes, children — it seems like flexibility is what is needed and legislation, I guess I just think you're going up the wrong tree on this one."
Jennings responded by asking O'Brien whether she thought the boy should have been suspended. She said the suspension was "unreasonable," but reiterated that the solution is not legislation. "If you were my state senator, I'd want you to be doing other things and not worrying about the danish shaped into a gun to be perfectly honest," she told him, prompting Jennings to note that his constituents are upset about these incidents.
"I just think to legislate teachable moments is problematic," O'Brien concluded.
Take a look, via CNN:

Have a tip we should know? tips@mediaite.com