Ted Cruz Goes Off on 'Serial Philanderer' Trump: He Described 'Venereal Disease as His Own Vietnam'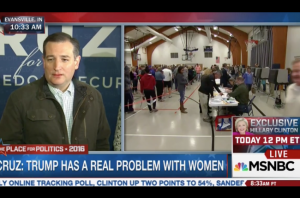 Welp, the Indiana primary just got a whole lot saucier.
Speaking to a group of reporters on Tuesday morning from Evansville, Indiana, Ted Cruz — desperately looking to make strides in the delegate count tonight — fired sharp language at the party frontrunner, calling into his question his own history of marital infidelity.
Citing Trump's personal decision-making, the Texas Senator criticized Trump's support for convicted rapist Mike Tyson, something that Cruz has been highlighting in Indiana for the last week (the state is where Tyson served three years behind bars for the offense). Cruz said, "The President of the United States has a bully pulpit unlike anybody else. The President of the United States affects our culture. I ask the people of Indiana: think about the next five years if this man were to become President. Think about the next five years: the boasting, the pathological lying… the bullying."
The Texas Senator then unexpectedly railed against Trump's admitted romantic indiscretions:
Donald Trump is a serial philanderer and he boasts about it. I want everyone to think about your teen aged kids. The President of the United States talks about how great it is to commit adultery, how proud he is. [He] describes his battle with venereal disease as his own personal Vietnam. That's a quote, by the way, on the Howard Stern show. Do you want to spend the next five years with your kids bragging about infidelity? Now what does he do? He does the same projection, just like a pathological liar. He accuses everyone about lying.
Watch the above clip from MSNBC.
Have a tip we should know? tips@mediaite.com