'That's Not A Jobs Plan': Obama Calls Out GOP's Keystone Pipeline Hype, 'Meaningless' Obamacare Repeal Votes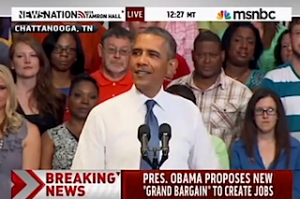 President Obama laid out his latest "grand bargain" for congressional Republicans Tuesday during a speech at the Amazon fulfillment center in Chattanooga, Tennessee. The president drew cheers from the crowd when he listed some of the GOP's recent priorities and prescriptions along with the refrain, "That's not a jobs plan."
Obama presented his "bottom line" to Republicans by saying, "I'm willing to work with Republicans on reforming our corporate tax code, as long as we use the money from transitioning to a simpler tax system for a significant investment in creating middle-class jobs. That's the deal."
"I'm just going to keep on throwing ideas out there to see if something takes," Obama said. "I'm going to lay out my ideas to give the middle-class a better shot, but now it's time for Republicans to lay out their ideas." This led into the president's main criticism of his ideological opponents in Congress.
"Just gutting our environmental protection, that's not a jobs plan. Gutting investments in education, that's not a jobs plan. You know, they keep on talking about an oil pipeline coming down from Canada that's estimated to create about 50 permanent jobs. That's not a jobs plan. Wasting the country's time by taking something like 40 meaningless votes to repeal Obamacare is not a jobs plan. That's not a jobs plan."
According to a report by the State Department, the construction of the Keystone XL pipeline will create 42,100 indirect jobs and 3,900 direct jobs during the first one to two year period. But after that, the estimates are even lower than the one Obama gave in his speech. The same report predicts 35 permanent jobs and 15 temporary jobs, mostly for "inspections, maintenance and repairs" after the initial construction period.
As for the Obamacare repeal attempts, the House has its 40th vote scheduled for this Friday.
Watch video below, via MSNBC:
—
>> Follow Matt Wilstein (@TheMattWilstein) on Twitter
Have a tip we should know? tips@mediaite.com