Tina Brown: Bernie's Promises Are 'About as Trustworthy' as 'Trump University'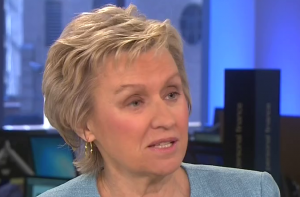 Former Newsweek editor and founder of The Daily Beast Tina Brown took a shot at Democratic presidential candidate Bernie Sanders Wednesday morning, saying on CNN that his campaign promises were as trustworthy as the notorious scam Trump University.
"I think part of Hillary Clinton's baggage is her lack of trustworthiness. Only 16% of voters in Wisconsin find her trustworthy," noted CNN host Carol Costello.
But Brown argued that voters should be questioning Sanders and his positions. "Frankly, I find it pretty untrustworthy to be promising the electorate crazy stuff, like the fact that you can block the banks and give everybody free college tuition and give everybody free healthcare. That to me sounds about as trustworthy as the kind of fare they're offering at Trump University."
"I think what we're seeing right now is the beginning of that moment where voters are saying, 'Okay we've heard it all, but actually how is he going to do it?'" she put in later.
"We saw the revelation in that Daily News interview with Sanders yesterday, which was pretty much a shocker where he was asked questions how he would break up the banks and so on and he just flailed and blathered. He had no clue."
"I actually think that New York, for instance, is a tough-minded state," Brown continued, "and I think it is not going to be enough to just go in there singing the song of the beautiful revolution. I just don't think it's going to be enough.
Watch above, via CNN.
[Image via screengrab]
——
>>Follow Alex Griswold (@HashtagGriswold) on Twitter
Have a tip we should know? tips@mediaite.com