Town's Sole Black Resident Speaks Out on CNN About White Supremacist Trying to Take Over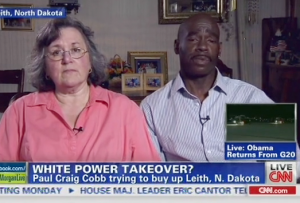 In the small town of Leith, North Dakota (populated by only two dozen people), a white supremacist has been buying up properties and encouraging his fellow white power brethren to take haven in Leith. Bobby Harper, the town's only black resident, spoke out on CNN Friday night about efforts to fight back against their town being taken over by white supremacists.
Paul Craig Cobb, the man in question, has been on a strange marketing campaign of sorts, including this message he posted online to attract others:
"Imagine strolling over to your neighbors to discuss world politics with nearly all like-minded volk. Imagine the international publicity and usefulness to our cause!" Cobb wrote. "For starters, we could declare a Mexican illegal invaders and Israeli Mossad/IDF spies no-go zone. If leftist journalists or antis come and try to make trouble, they just might break one of our local ordinances and would have to be arrested by our town constable. See?"
The Southern Poverty Law Center shone a spotlight on the issue a few weeks ago, revealing exactly what Cobb's outcome is.
Cobb's plan in Leith is to build a Pioneer Little Europe –– an idea long favored on the racist right as a way to escape what is seen as a multiculturalist agenda at work in larger and more racially diverse cities. First proposed in a 2001 pamphlet by H. Michael Barrett, the vision is to consolidate white residents in existing cities and towns and create all-white enclaves. Northwestern states including Montana, Idaho, and now North Dakota, have historically been considered appealing places to start because of lack of racial diversity.
On Piers Morgan Live, Harper and his wife Sherrill told John Berman that they've seen and heard a lot of hateful things since Cobb came to their normally "nice" and "peaceful" town. Harper said he's not witnessed any racism in the town prior, and recalled how Cobb once approached him to try and buy his property.
Harper's wife thanked the community for being "very supportive." Harper said "something has to be done" about Cobb, and "if he can't love his fellow men, then he needs to ask God to help him or something."
The city of Leith is considering disbanding the local government, with one resident saying, "He can't control the city if there's no city government."
Below is a picture of Cobb standing in one of his newly owned properties: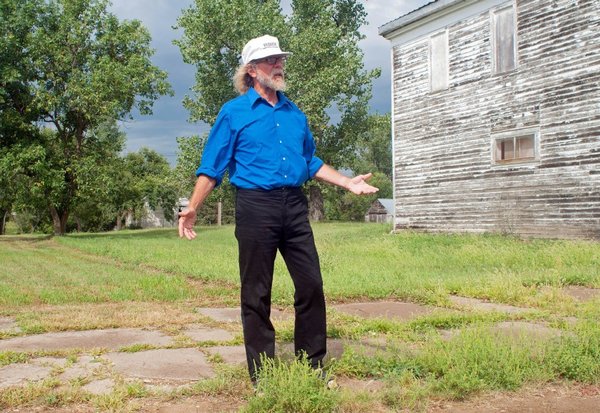 And you can watch the CNN segment here:
[photos via screengrab, Associated Press]
— —
Follow Josh Feldman on Twitter: @feldmaniac
Have a tip we should know? tips@mediaite.com
Josh Feldman - Senior Editor