University President to Students: 'Get Your Permit,' Prevent Next San Bernardino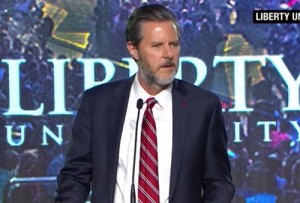 Liberty University President Jerry Falwell Jr. advised students to get their concealed carry permits so that they could prevent the next San Bernardino from happening.
"It just blows my mind when I see the President of the United States say that the answer to [San Bernardino] is more gun control," Falwell told students during Friday night's weekly convocation. "If some of those people in that community center had had what I've got in my back pocket right now…"
The students in attendance erupted at the president's admission that he was packing, cheering and applauding it and his previous jab at President Barack Obama.
"Is it illegal to pull it out? I don't know," he joked.
Interestingly, the sound of loud boos can be heard in the background throughout Falwell's pro-gun comments. Whether or on these are directed at him or Obama, however, is difficult to determine.
"I've always thought if more good people had concealed carry permits, then we could end those Muslims before they walk in and kill," Falwell continued.
That's when the Liberty University president concluded his remarks on the matter and encouraged the students to obtain their permits if they hadn't already.
"I just wanted to take this opportunity to encourage all of you to get your permit. We offer a free course. Let's teach them a lesson if they ever show up here."
Check out the clip above, via CNN.
[h/t CNN]
[Image via screengrab]
— —
>> Follow Andrew Husband (@AndrewHusband) on Twitter
Have a tip we should know? tips@mediaite.com