'We Saw Your Boobs!': Seth MacFarlane's Most Racist, Sexist (And Hilarious) Oscar Jokes In 2 Minutes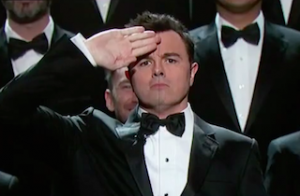 During the opening sequence at last night's 85th annual Academy Awards, host Seth MacFarlane attempted to fend off the inevitable Monday morning criticism by flashing fake reviews on a screen behind him, courtesy of William Shatner's time-traveling Captain Kirk. As he went from "Worst Oscars Host Ever" at the beginning to "Best Oscars Ever" by the end of his nearly 20 minute opening.
While nobody seems to be putting him squarely in either of those categories, the biggest criticisms flying around the web today are that despite his old-school Hollywood efforts, his jokes aimed at women came off as just a little too sexist for many viewers. Yes, MacFarlane delivered a lot of jokes aimed at the female nominees and presenters, but if you're able to look past "We Saw Your Boobs," you'll see that he also made plenty of jokes about race, religion and other politically incorrect subjects.
I would argue that MacFarlane was far tamer than anyone could have expected, given everything that's happened on Family Guy over the last decade and a half, from making fun of Sarah Palin's son Trig to Brian and Stewie sharing a high-five over 9/11, among many, many more examples.
I don't think MacFarlane topped Tina Fey and Amy Poehler's recent Golden Globe Awards, but even he knew that wasn't going to happen. Below is a video highlighting some of the most controversial moments from last night's Oscars. His Lincoln assassination joke was definitely not "too soon," but did you think anything else MacFarlane said (or sang) went too far?
Watch the exclusive Mediaite video below:
—
>> Follow Matt Wilstein (@TheMattWilstein) on Twitter
Have a tip we should know? tips@mediaite.com